In a manner befitting his reputation as a man of the people, the prolific singer Tony Bennett walked across the National Mall in Washington, D.C. in 2009 to see the collection of music artifacts at the Smithsonian's National Museum of American History (NMAH).
"On the way over, a couple of National Park Service rangers on horseback recognized Tony," recalls John Edward Hasse, curator emeritus of American music at the museum, who awaited Bennett's arrival that day. "They jumped off their horses, got down on their knees and started singing, 'I left my heart in San Francisco.' … He beamed from ear to ear."
That kind of affection followed Bennett throughout his seven-decade career in music. The singer, who famously made the Great American Songbook his own, died on Friday at age 96. As of 2021, he was still topping the charts.
"His listeners got that he was a man who was genuine and deeply committed and passionate about this great, great body of song that has stood the test of time and will continue to stand the test of time," says Hasse. "He was down to earth. He was humble. He had integrity and compassion."
Born Anthony Dominick Benedetto on August 3, 1926, in Long Island City, New York, the singer was raised in Queens by Italian immigrants. Music ran in the family. His older brother sang arias at the Metropolitan Opera as a teenager, taking after their father, who once entertained residents of his native Calabria with the classic Italian genre. "He had a reputation for singing on top of the mountain," Bennett told WHYY's "Fresh Air" in 1998, "so the whole valley would hear it."
Both of Bennett's parents worked—his mother as a seamstress and his father as a grocer—until his father became seriously ill and died when Bennett was 10 years old, plunging the family into poverty. He attended the High School of Industrial Art in Manhattan, but dropped out to support his family by working in restaurants and saloons, putting his musical talents to use.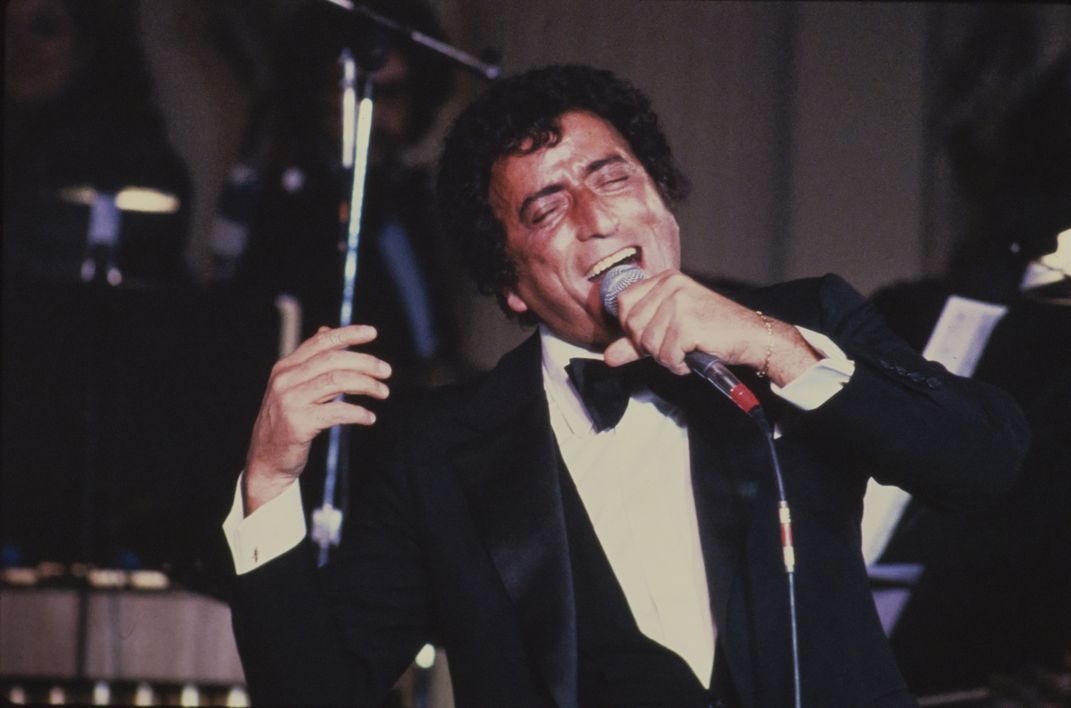 "I became a singing waiter," Bennett recalled on "Fresh Air." "It was the only job that I said, 'If I have to do this the rest of my life, I'd be happy doing that.'"
The gig didn't last long, though. In 1944, Bennett was shipped to Europe to join American forces fighting in World War II. Fighting with the Army's 63rd Infantry Division in France and Germany, he survived a few entanglements and helped liberate a concentration camp. When the war ended, Bennett stayed in Germany as an entertainer, singing for troops. Upon returning home in 1946, he restarted musical training, studying vocals at the American Theatre Wing School. He began performing in clubs under the moniker Joe Bari. One evening in 1949, at a nightclub in Greenwich Village, an audience member took a special liking to the singer. It was comedian Bob Hope—ranked Hollywood's number one box-office star at the time—who asked the 23-year-old "Joe" to accompany his act.
Bennett recalled Hope saying, "Come on kid, you're going to come to the Paramount [Theater] and sing with me"—but not as Joe Bari. "He didn't care for my stage name … and asked me what my real name was. I told him, 'My name is Anthony Dominick Benedetto,' and he said, 'We'll call you Tony Bennett.' And that's how it happened. A new Americanized name—the start of a wonderful career and a glorious adventure."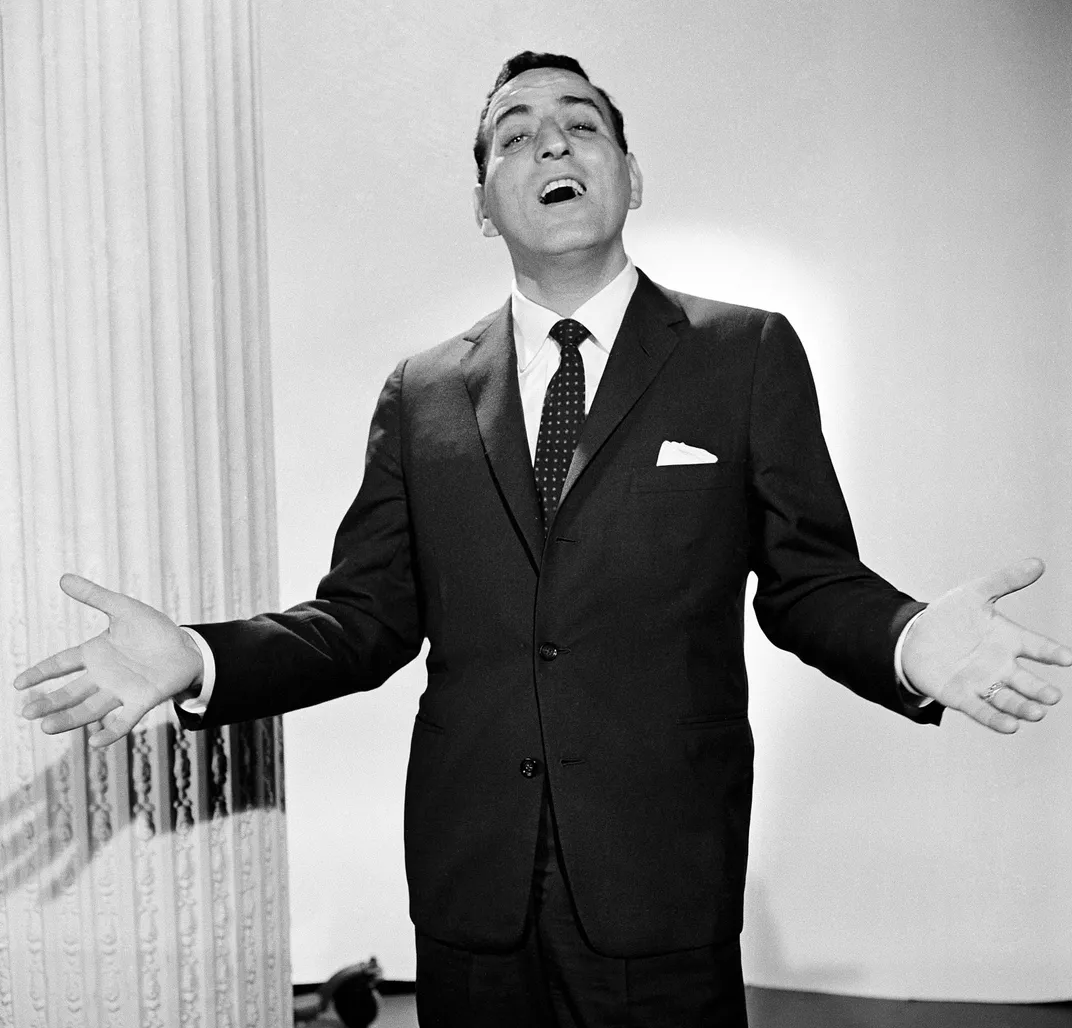 The following year, Bennett signed with Columbia Records, and in 1951, the song "Because of You" became his first big hit. As Andrew R. Chow writes for Time magazine, "His songs dominated on jukeboxes in ice cream parlors and bars across the country, making him the epitome of a pop star before rock 'n' roll would crash into America." Bennett would go on to release more than 70 albums and win 19 competitive Grammy Awards, most of them later in life. His prominence and output ebbed and flowed, but the ability and charisma that launched Bennett to stardom allowed him to bounce back countless times.
"He was touching the timeless," Hasse says. "He stood for excellence. He stood for art. But he also stood for communication with ordinary people and across the generations. He was unique that way."
Bennett communicated not only across generations but also artistic mediums. Throughout his singing career, he practiced another art form: painting.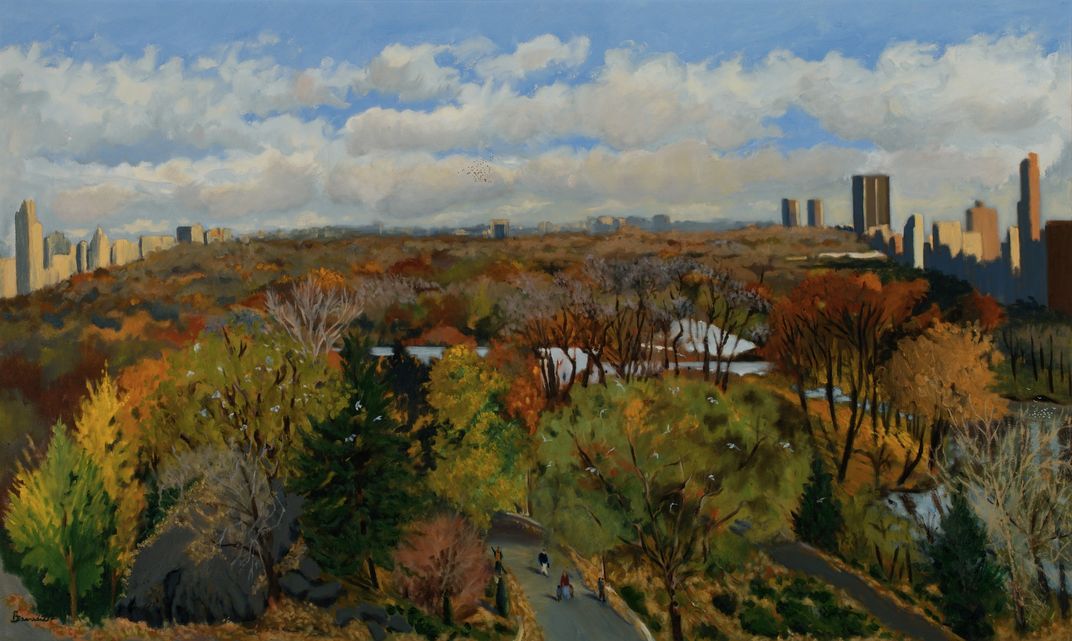 His interest started when he was a boy, around the same time he took up singing. While music brought him fame, painting brought him peace. As Bennett told the Los Angeles Times in 1995, he'd been performing on the road ever since he was recruited by Hope. When fatigue struck, he turned to painting.
"I love to paint as much as I love to sing," Bennett told the Associated Press in 2006, describing painting as "a big lift" that allowed him to "stay in this creative zone all the time."
The artist differentiated his  two careers by his signature: As a singer, he was Tony Bennett, but as a painter, he used his given name, Anthony Benedetto. One of Benedetto's oil paintings is housed in the collections of the Smithsonian American Art Museum.
"The work that we have is this beautiful, quasi-impressionistic, realistic view of Central Park," says Randal Griffey, the museum's head curator. "He loved the park, as a lot of New Yorkers do, because it allowed him to feel connected to nature … despite being immersed in the city."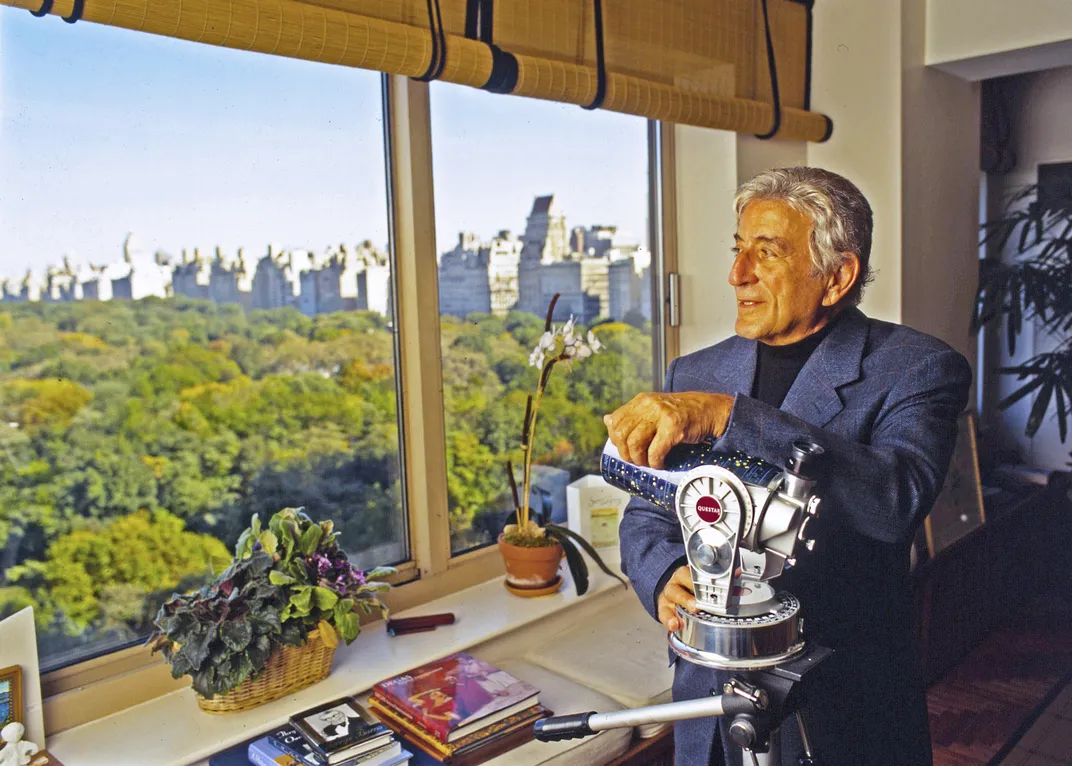 According to the museum, Bennett once said, "I always dreamed of having a place that could catch the afternoon light so I could paint that park over and over." In fact, the 1998 painting depicts the view from his New York apartment.
In painting, Bennett gravitated toward nature, calling it "the boss." But he was also a practiced portraitist. He painted many legends of jazz, a genre he never identified with personally but continually emulated. His portrait of Ella Fitzgerald was donated to NMAH in 2002, and the Smithsonian's National Portrait Gallery holds in its collections  his watercolor depiction of Duke Ellington, pictured before pink roses and greenery. Bennett also painted Dizzy Gillespie, John Coltrane, Miles Davis and Louis Armstrong, all of whom influenced his career, as well as Frank Sinatra, who changed it by singing his praises publicly.  In 1965, Sinatra told Life magazine, "For my money, Tony Bennett's the best in the business."
"All of his fans wanted to find out about what he was talking about," Bennett told CBS' "Sunday Morning." "And from that day on, I've been sold out everywhere in the world."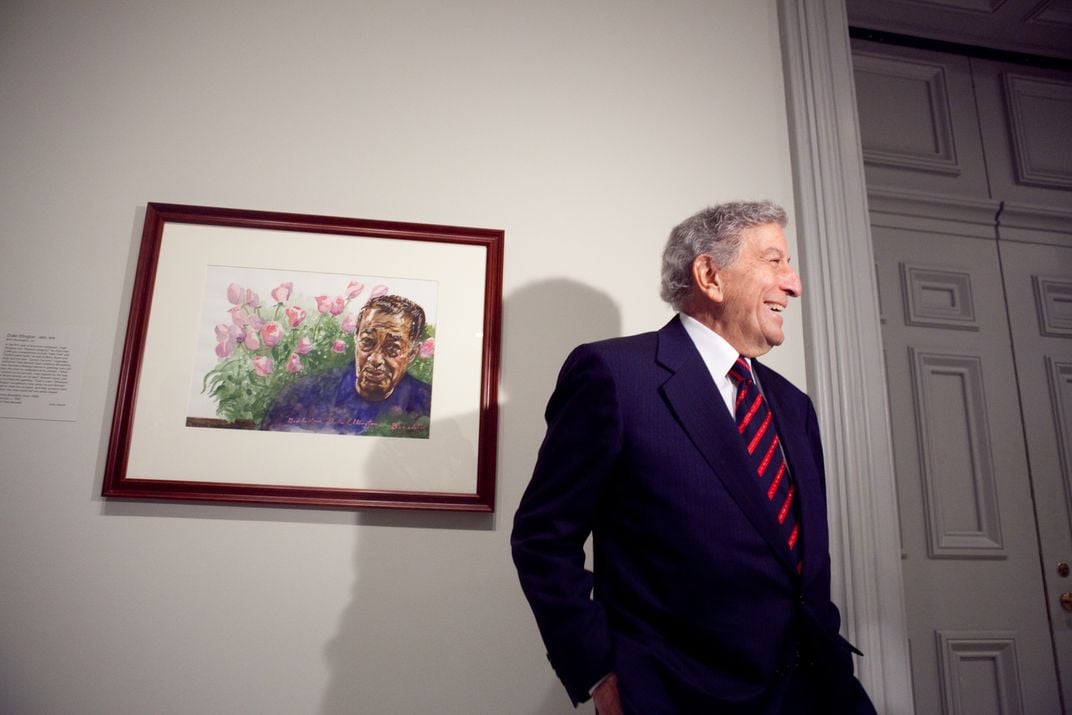 Bennett and his third wife, Susan Benedetto, founded a school for the arts in Queens in 1999. The beneficiaries wanted to name it for the singer, but he refused. At Bennett's request, the facility was called the Frank Sinatra School of the Arts.
"He had a big heart and a self-limited ego," says Hasse, commenting on Bennett's tendency to collaborate with and honor other musicians.
In the past decade, Bennett has lent his charisma to modern pop. Managed by his son Danny Bennett, the crooner's career began its final rise back in 1994, when he sang with k.d. lang on the television show "MTV Unplugged." Later, his creative partnership with pop star Lady Gaga introduced Bennett to a new generation of fans. Both of the albums they recorded together—2014's Cheek to Cheek and 2021's Love for Sale—won Grammys for best traditional pop vocal album. In celebration of Bennett's 95th birthday, the pair held a concert at Radio City Music Hall in 2021: the singer's last public performance. The evening concluded with Gaga escorting Bennett offstage  during a thunderous standing ovation.
"He was as magnetic and charismatic in person as he was on stage or on screen," Hasse says. "I like to think of him as a man of artistic magic—class, integrity and inspiration."