Streaming

From new Netflix originals to classic films from decades past, we've got streaming recommendations for every taste.
With a library of more than 3,500 films and a labyrinth of oddly specific categories and recommendations, finding the best movies on Netflix can be a chore.
To help you with your streaming decisions, we've compiled a list of some of the best movies on Netflix right now, ranging from new Netflix originals to classic films from decades past.
To further assist your nightly watching decisions, we've sorted our best-of list into genres, so you can immediately navigate to the best horror movies on Netflix or the best comedies on Netflix using the links below. We'll also be adding movies that are new on Netflix to the top of the article each month.
Think our list is missing something? Email [email protected] with suggestions, whether it's about ways to make this list more user-friendly or your personal favorite best movies on Netflix that we overlooked.
---
New on Netflix
"The Bourne Identity" (2002)
Runtime: 118 min.
Starring: Matt Damon, Franka Potente, Chris Cooper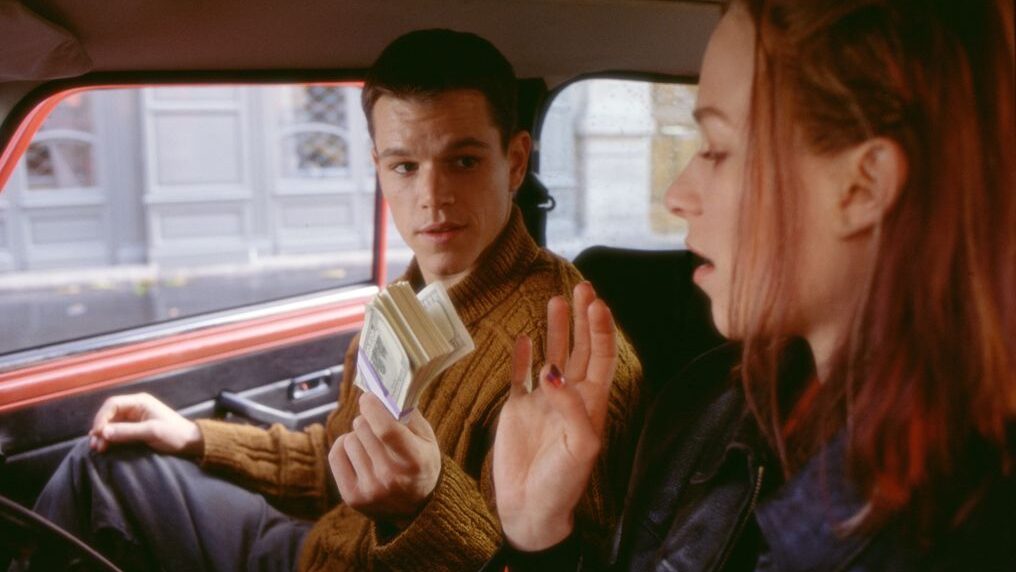 In a spy thriller landscape dominated by Tom Clancy adaptations throughout the '90s, Doug Liman brought the world something different in 2002 with "The Bourne Identity," ushering in a new type of hero in Jason Bourne (Matt Damon) and a new style of action filmmaking that was oft-imitated in subsequent years. Waking up with two bullets in his back and no memory of who he is or why the CIA is chasing him, Bourne begins to piece together his life with the help of a German woman (Franka Potente) driving him across Europe. Tony Gilroy's script gives Bourne an actual identity (pardon the pun) beyond skilled CIA operative, and Liman's handheld action sequences convey the claustrophobic feeling Bourne experiences as Treadstone closes in on him.
Watch "The Bourne Identity" on Netflix
---
"Inception" (2010)
Runtime: 148 min.
Starring: Leonardo DiCaprio, Joseph Gordon-Levitt, Marion Cotillard
Back in 2002, Christopher Nolan presented an idea for a horror movie to Warner Bros. about "dream stealers" who could infiltrate minds, a la Freddy Krueger. While that would no doubt have been interesting, Nolan eventually landed on the heist film/psychological thriller structure for "Inception," a genuine cultural phenomenon when it was released in 2010. Building on Nolan's fascination with time and memory as shown in "Memento," the film follows a team of "extractors" (led by Leonardo DiCaprio) who venture inside the mind of a business heir in order to plant the idea of selling his father's company in his subconscious. Nolan's plots are always intricate jigsaw puzzles, but he pushed the envelope with "Inception," inspiring fans to invest in multiple viewings in an attempt to unravel its "dream within a dream within a dream" structure.
---
"Psycho" (1960)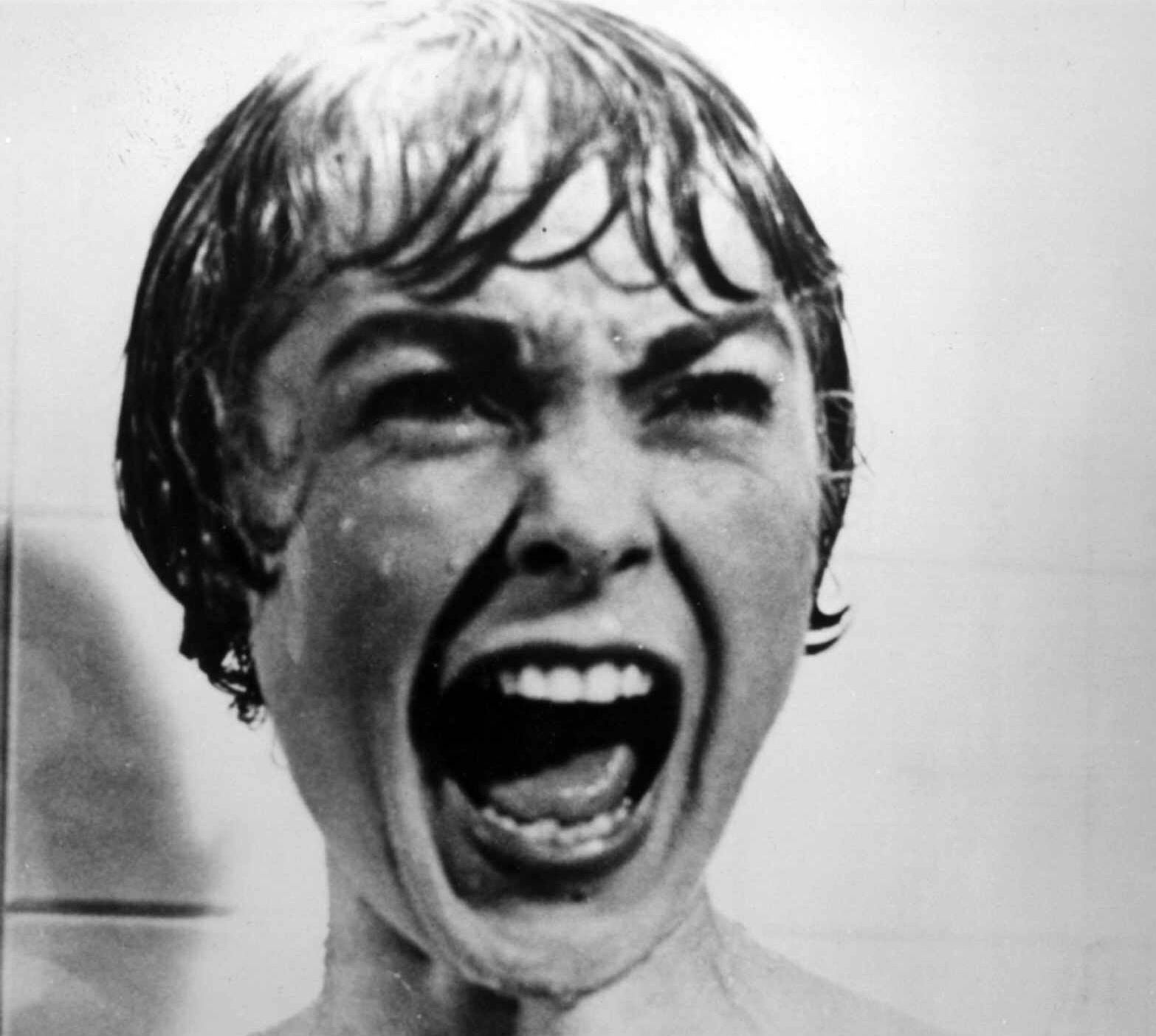 Runtime: 108 min.
Starring: Anthony Perkins, Vera Miles, John Gavin, Janet Leigh
Like many films now regarded among the best ever made, Alfred Hitchcock's "Psycho" was not well received upon its 1960 release. Critics were uncomfortable with the boundary-pushing violence and sexual deviance, with one reviewer going so far as to permanently resign from her job after watching the film. But Hitchcock's work quickly gained a following, and to this day is one of the most-referenced and oft-imitated films ever. As creepy innkeeper Norman Bates, Anthony Perkins set the standard for on-screen serial killers to come. As a runaway secretary with stolen money, Janet Leigh's iconic shower scene anointed her the first scream queen, and essentially birthed the slasher genre. And with its staccato strings, Bernard Herrmann's score set new standards for how music could impact mood. The fact that "Psycho" still shocks and terrifies audiences decades later is evidence enough that it remains a landmark cinematic achievement.
---
Drama
"Call Me by Your Name" (2017)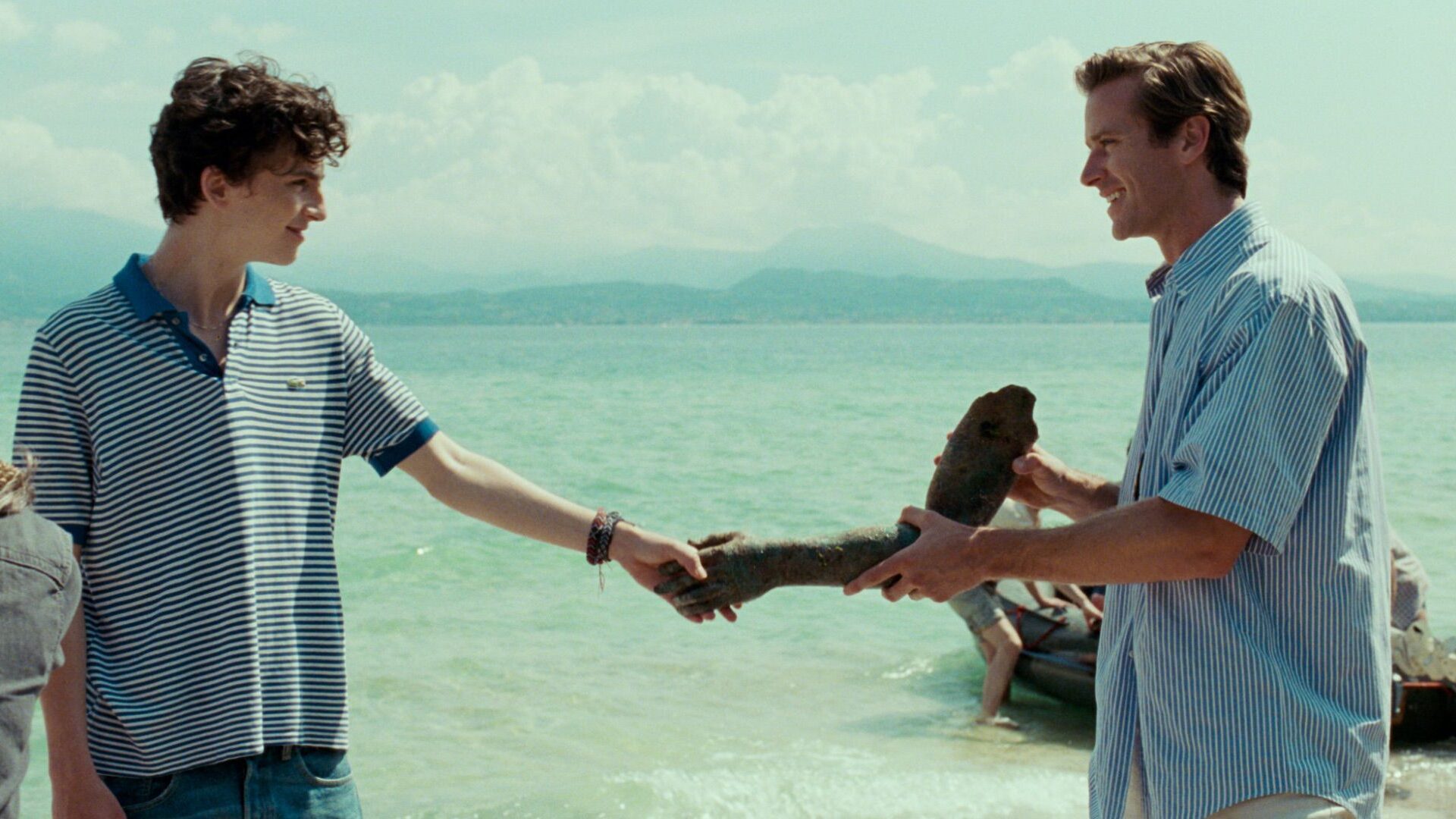 Runtime: 132 min.
Starring: Armie Hammer, Timothée Chalamet, Michael Stuhlbarg, Amira Casar
Luca Guadagnino's coming-of-age 2017 romance is a work of intoxicating beauty, telling the story of a summer fling between precocious teen Elio (Timothee Chalmet) and confident grad assistant Oliver (Armie Hammer), who is staying with Elio's family at their Northern Italy villa. Watching the film will leave you with a sense of yearning — whether it's for the sun-drenched Italian countryside, the sumptuous dinner spreads, or a summer love of years gone by. Chalamet is transcendent, but don't sleep on Michael Stuhlbarg ("A Serious Man") as Elio's knowing father.
Watch "Call Me By Your Name" on Netflix
---
"If Beale Street Could Talk" (2018)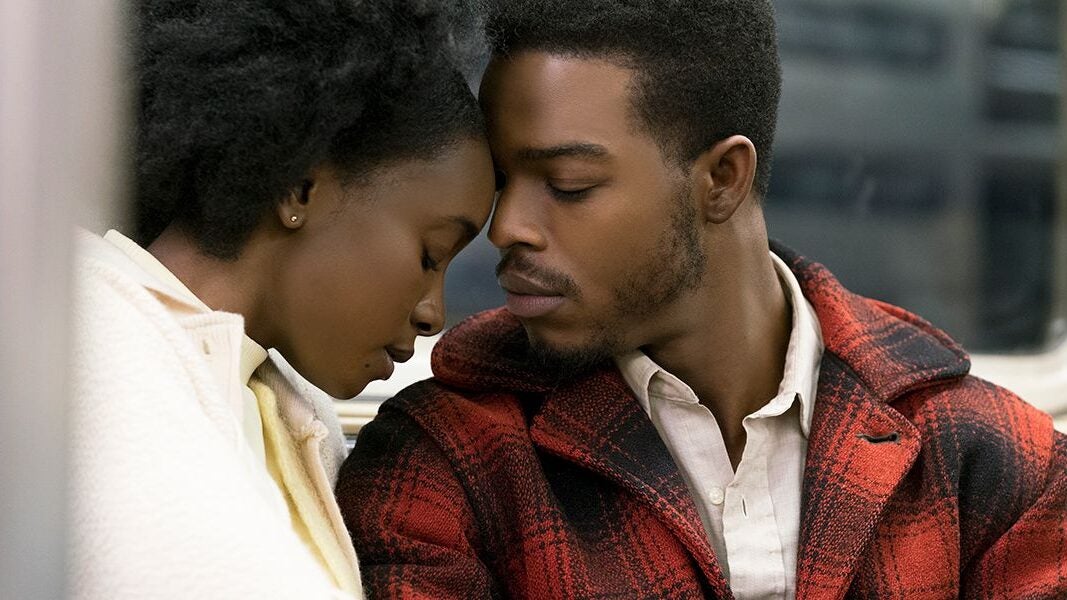 Runtime: 117 min.
Starring: KiKi Layne, Stephan James, Brian Tyree Henry, Regina King
Following his Best Picture win for "Moonlight," director Barry Jenkins fully committed to telling a love story in "If Beale Street Could Talk," a deeply moving piece of cinema based on the James Baldwin novel of the same name. Told in a non-linear fashion, "Beale Street" chronicles the lives of Tish and Fonny (Kiki Layne, Stephan James), a young Black couple trying to scrape out a decent living in 1970s New York City amidst discriminatory housing practices. When Fonny is imprisoned for a crime he didn't commit, Tish does what she can to keep their lives under control, even with a child on the way. James and Layne's chemistry is undeniable, and Regina King, who won an Oscar for playing Tish's mother, gives a standout performance.
Watch "If Beale Street Could Talk" on Netflix
---
"The Irishman" (2019)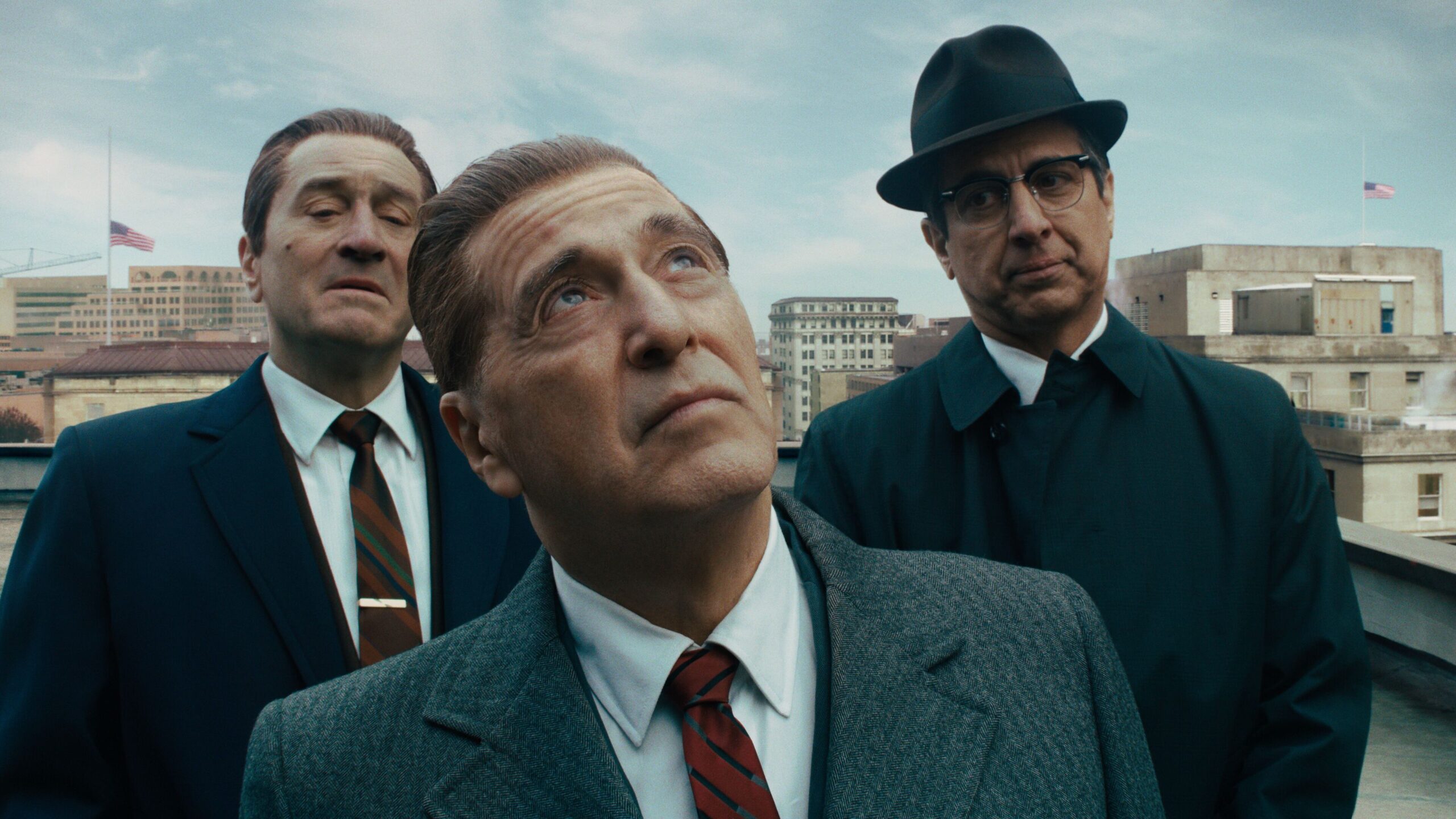 Runtime: 210 min.
Starring: Robert De Niro, Al Pacino, Joe Pesci, Harvey Keitel
Martin Scorsese's 210-minute crime saga follows the life of Frank Sheeran (Robert De Niro), who goes from driving trucks to leading a union, all while "painting houses" (killing people) for the likes of mobster Russell Bufalino (Joe Pesci) and protecting the interests of infamous union boss Jimmy Hoffa (Al Pacino). Instead of simply rehashing "Goodfellas," Martin Scorsese goes deeper and darker, examining the life of a gangster who lived the life and is contemplating what it was all for.
Watch "The Irishman" on Netflix
---
"La La Land" (2016)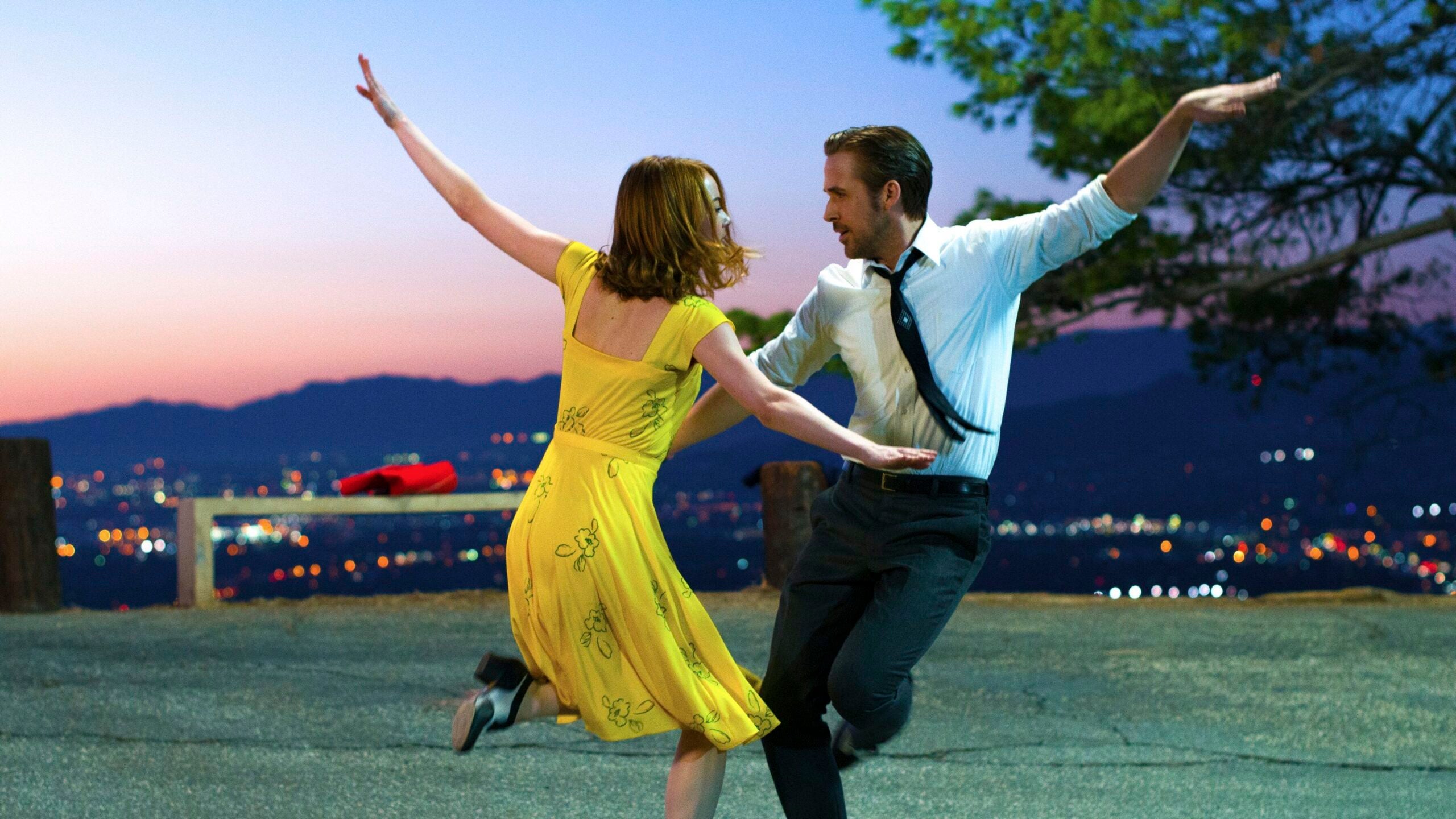 Runtime: 128 min.
Starring: Ryan Gosling, Emma Stone
Thanks to the Oscar gaffe to end all Oscar gaffes, Damien Chazelle's love letter to the movie musical will be inextricably tied to "Moonlight" for decades to come as a trivia question. The film stands on its own merits, though, thanks to memorable music by Justin Hurwitz, showy camera work from Linus Sandgren, and beautiful performances from Emma Stone and Ryan Gosling. Building on their chemistry in "Crazy, Stupid, Love," the pair feel like a modern-day Fred Astaire and Ginger Rogers — or the closest we'll get in the current era, anyway.
---
"Leave No Trace" (2018)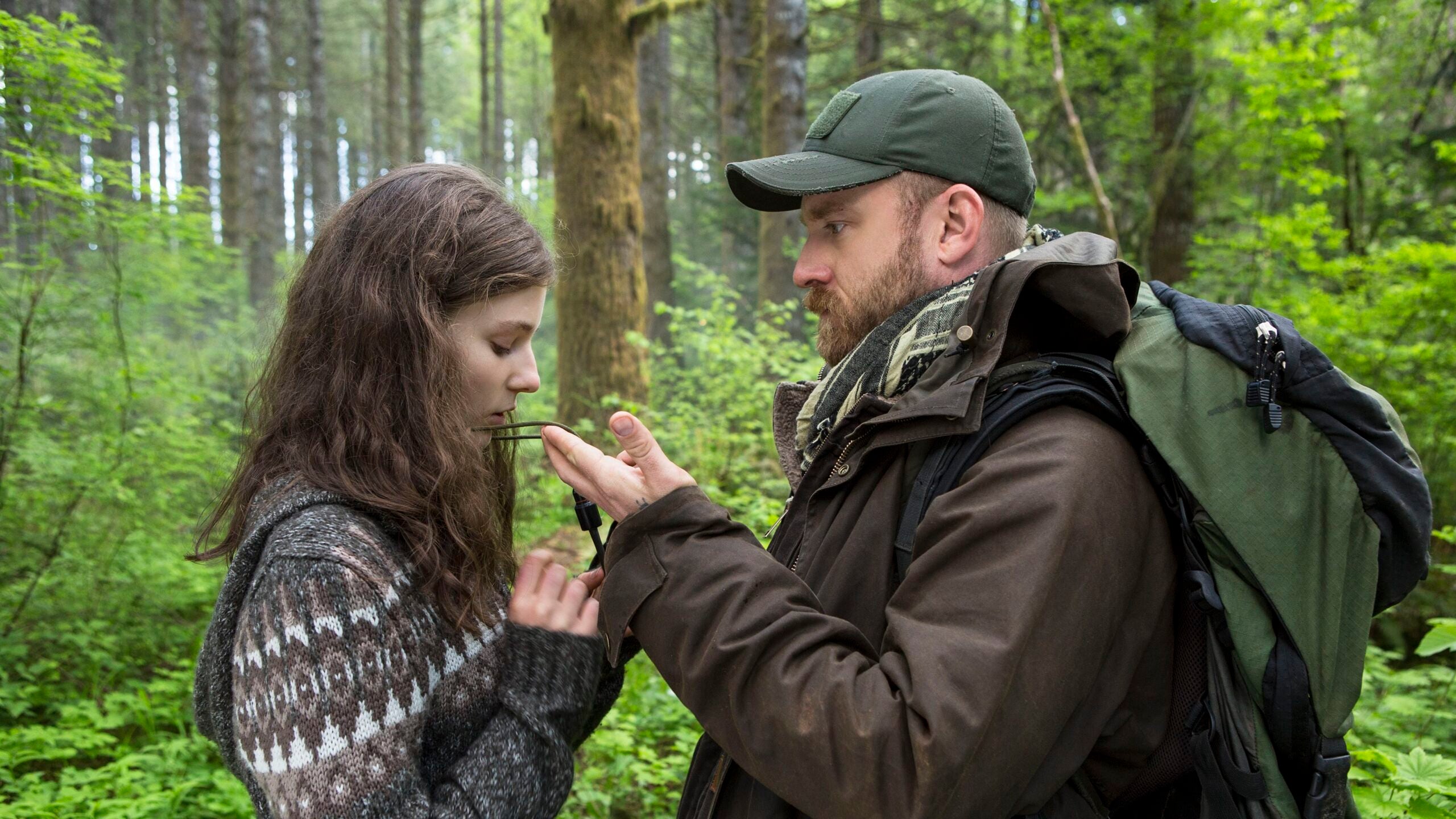 Runtime: 109 min.
Starring: Ben Foster, Thomasin McKenzie
A father (Boston native Ben Foster) and teenage daughter (Thomasin McKenzie) live off the grid in an Oregon forest until authorities find them and force them to integrate into society. "Leave No Trace" is the first film for Cambridge-born director Debra Granik since 2010's Oscar-nominated "Winter's Bone," and much like that film kickstarted the career of a teenage Jennifer Lawrence, "Leave No Trace" is a star-making turn for McKenzie, who is torn between a desire to experience a normal childhood and to protect her traumatized father.
Watch "Leave No Trace" on Netflix
---
"The Lost Daughter" (2021)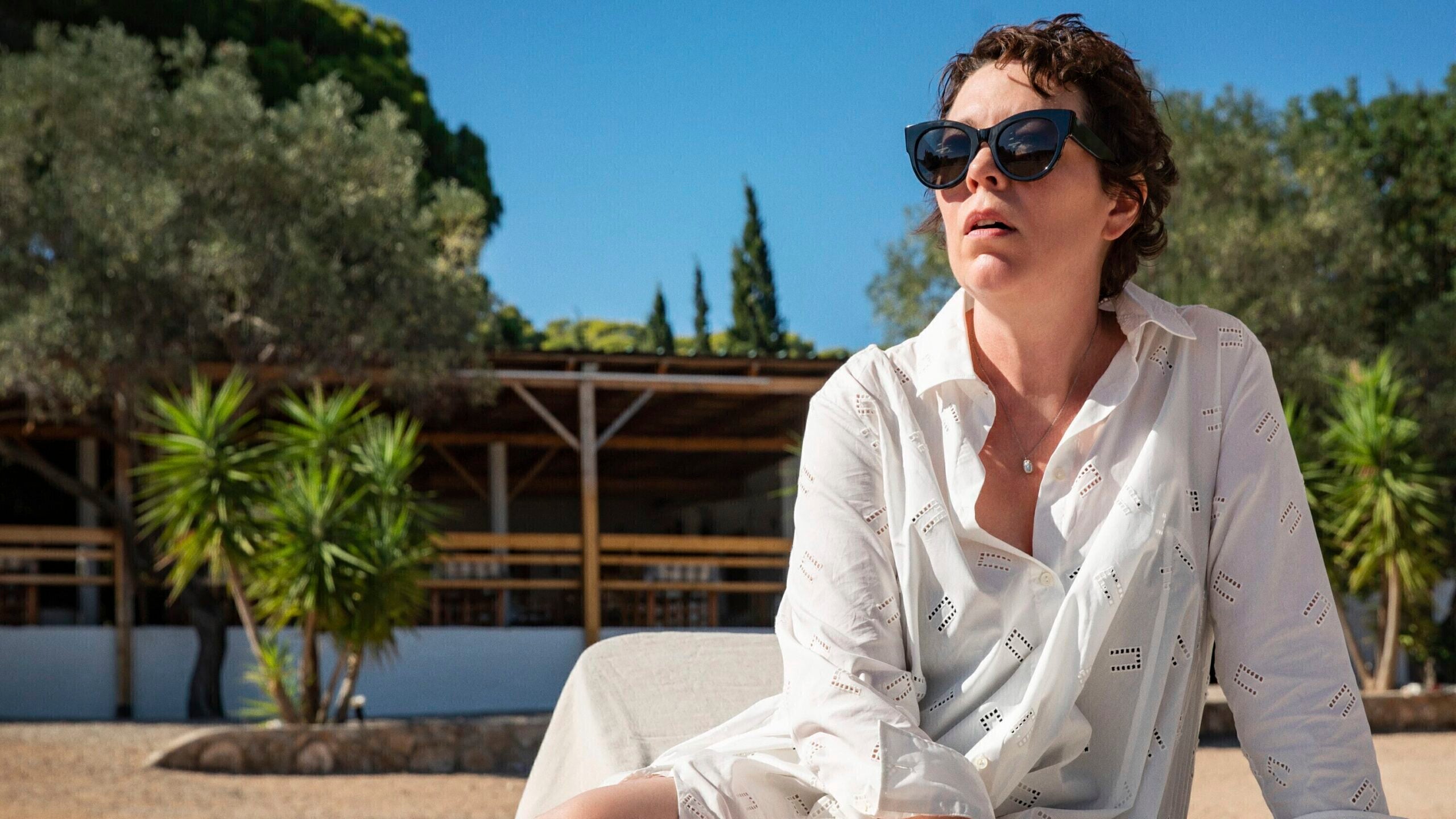 Runtime: 121 min.
Starring: Olivia Colman, Dakota Johnson, Jessie Buckley, Paul Mescal
Based on the Elena Ferrante novel of the same name, "The Lost Daughter" is yet another masterful performance from Olivia Colman, who won a Best Actress Oscar in 2019 for "The Favourite" and could have easily won a Supporting Actress award 2020's "The Father." In this psychological drama from actress Maggie Gyllenhaal, Colman plays a prickly college professor on vacation in Greece who inserts herself in the lives of a young mother (Dakota Johnson) and her 3-year-old daughter. "The Lost Daughter" may have missed out on a Best Picture nomination, but it's certainly among 2021's best.
Watch "The Lost Daughter" on Netflix
---
"Phantom Thread" (2017)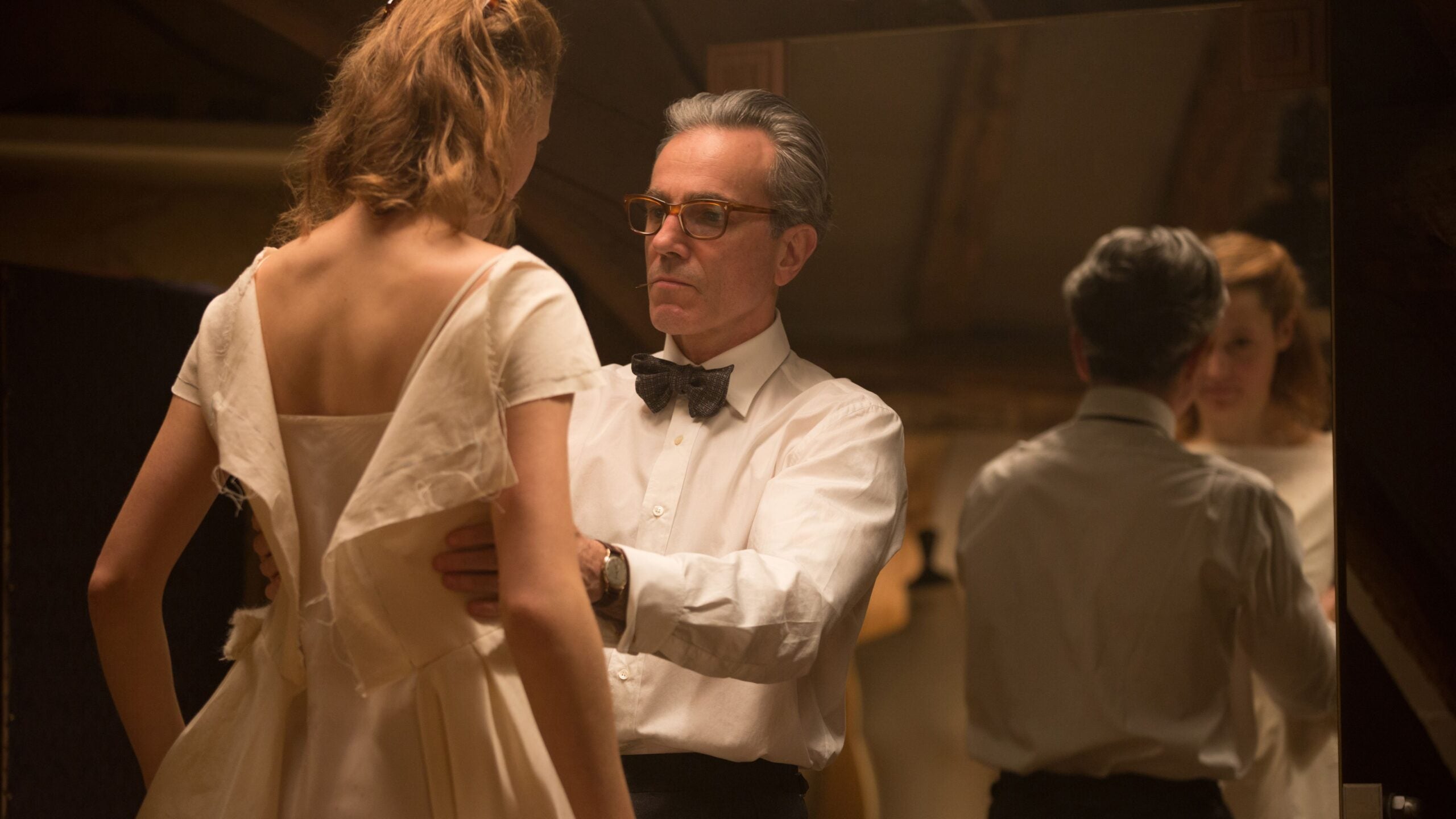 Runtime: 130 min.
Starring: Daniel Day-Lewis, Vicky Krieps, Lesley Manville
By all indications, "Phantom Thread" will be the final film of Daniel Day-Lewis ("There Will Be Blood"), the peerless actor who announced his retirement following the completion of Paul Thomas Anderson's historical drama. As fussy dressmaker Reynolds Woodcock, Day-Lewis delivers subtle pinpricks that devastate those around him. But he also makes space for the real star of the film in Alma (Vicky Krieps), his new muse. Though she appears unassuming, Alma matches Reynolds every step of the way, creating a messy but passionate partnership.
Watch "Phantom Thread" on Netflix
---
"The Power of the Dog" (2021)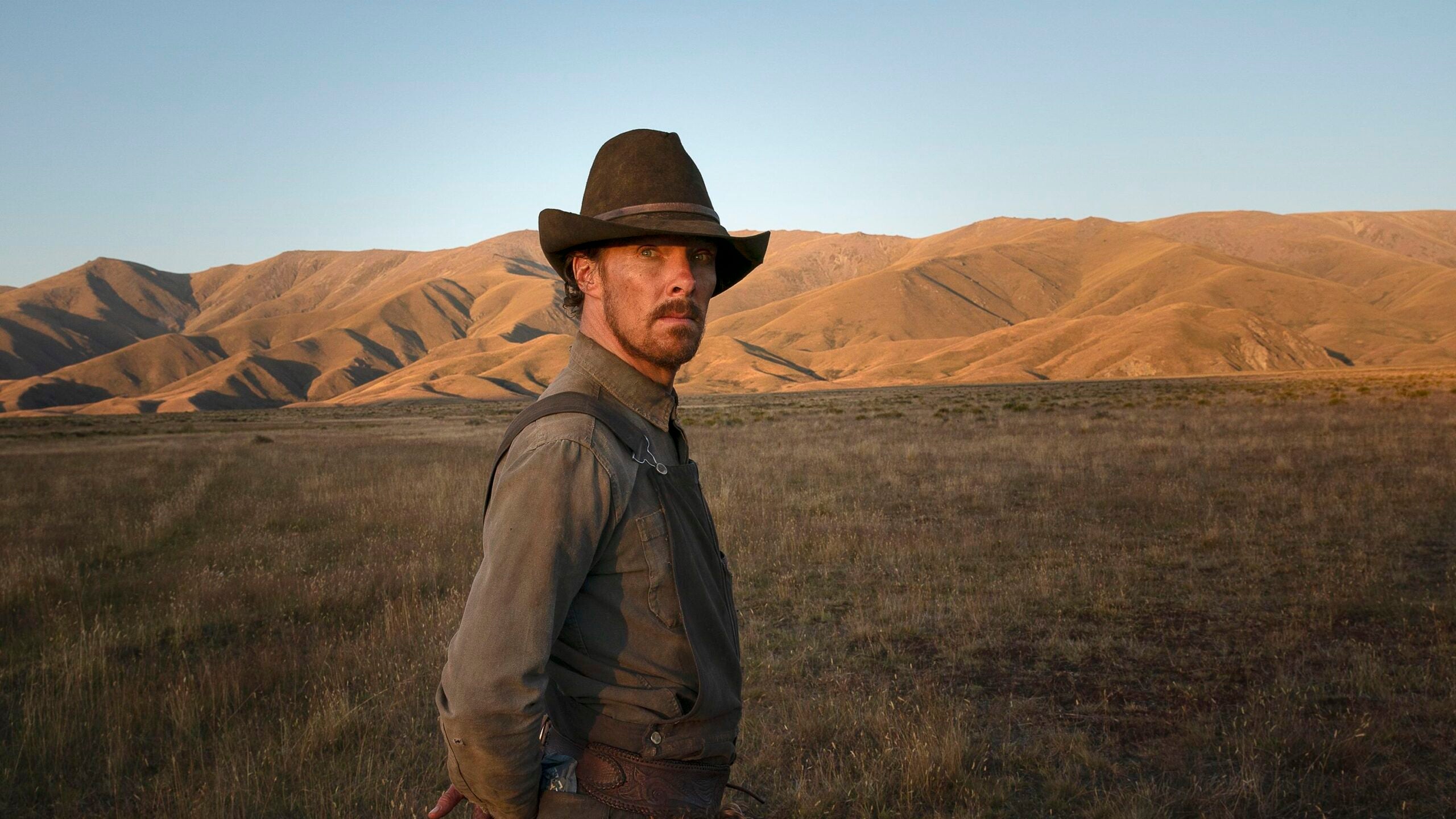 Runtime: 126 min.
Starring: Benedict Cumberbatch, Kirsten Dunst, Jesse Plemons, Kodi Smit-McPhee
Jane Campion's Oscar-winning Western drama centers around two ranch-owning brothers, Phil (Benedict Cumberbatch, "Dr. Strange") and George (Jesse Plemons, "The Irishman"). When George marries innkeeper Rose (Kirsten Dunst, "Bring It On"), Phil makes life difficult for her and her son, Peter (Kodi Smit-McPhee, "The Road"). Smit-McPhee is a revelation in the role, and Campion's film is dark, foreboding, depressing, and utterly unmissable.
Watch "The Power of the Dog" on Netflix
---
"Rocky" (1976)
Runtime: 119 min.
Starring: Sylvester Stallone, Talia Shire, Burgess Meredith, Carl Weathers
Sylvester Stallone has never been better than he is playing Rocky Balboa, an everyman boxer who gets a shot at the title against the imperious Apollo Creed (Carl Weathers). Decades later, "Rocky" is a part of America's cultural identity, an underdog story for the ages. Stallone's life (and his performances) were never the same again, but here he brings a desperation and vulnerability to the screen that feels true to life. (As a bonus, the best of the film's numerous sequels, "Rocky II," is also streaming on Netflix.)
---
"The Sting" (1973)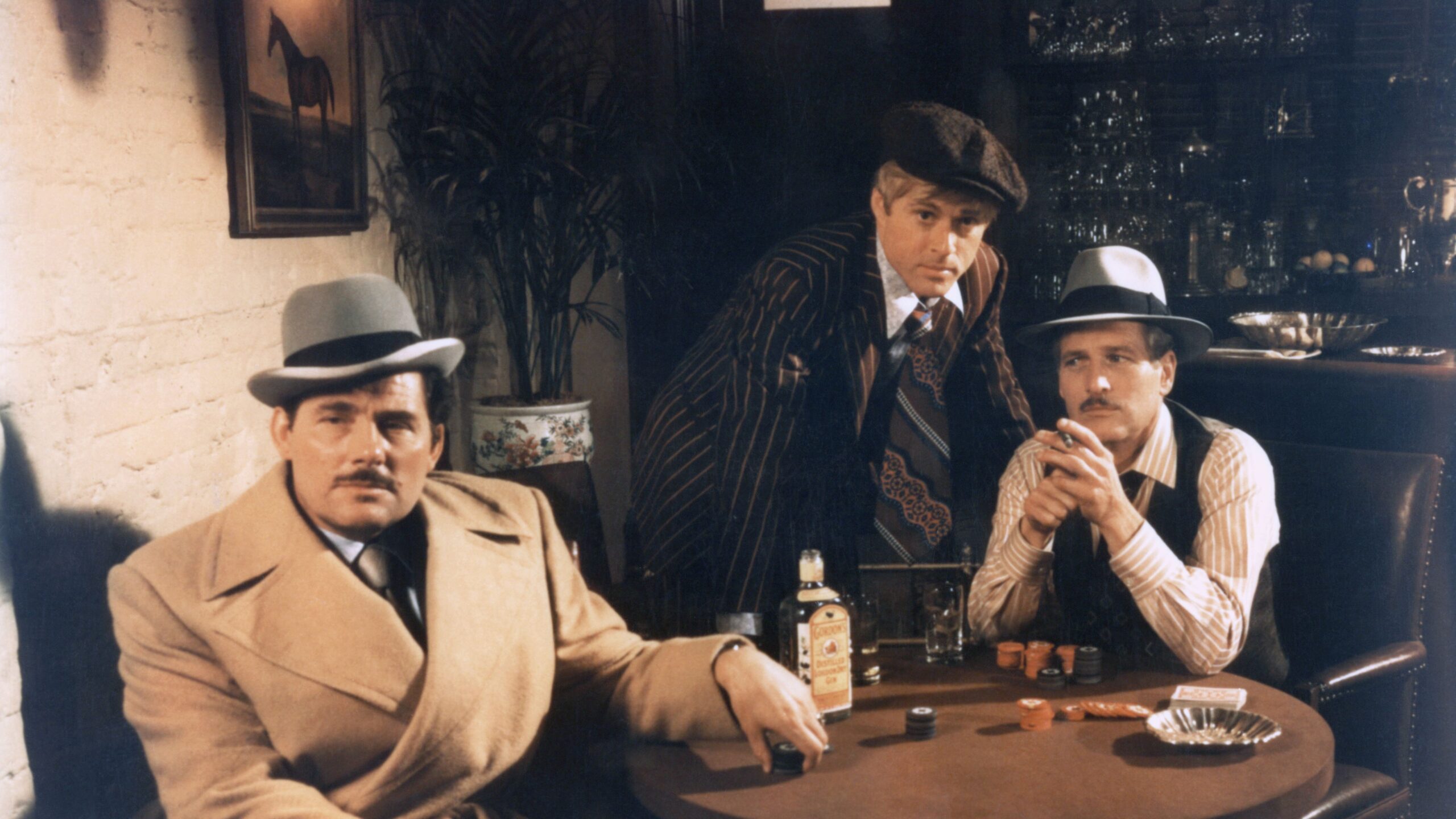 Runtime: 129 min.
Starring: Paul Newman, Robert Redford, Robert Shaw
The allure of a good heist film is undeniable, especially when the caper is being masterminded by the likes of Paul Newman and Robert Redford. Playing two grifters who zero in on a mob boss played by Robert Shaw ("Jaws"), the "Butch Cassidy and the Sundance Kid" duo ooze charisma, firing off one-liners as they plot their elegantly constructed crime. Steven Soderbergh's "Ocean's 11" may be a remake of the 1960 film of the same name, but George Clooney and Brad Pitt owe just as much to Redford and Newman as they do Frank Sinatra and Dean Martin.
---
Comedy
"Fletch" (1985)
Runtime: 98 min.
Starring: Chevy Chase, Joe Don Baker, Dana Wheeler-Nicholson
If you didn't watch the criminally under-watched "Confess, Fletch," a 2022 reboot of the amusing '80s films with Jon Hamm ("Mad Men") stepping into Chevy Chase's role as journalist Irwin "Fletch" Fletcher, go stream it on Showtime right away. But before you do, catch up with the 1985 original, which was added to Netflix's library in January. Chase is at the height of his swaggering, smirking powers here, wisecracking his way through a noir in which a mysterious millionaire offers him a large sum of money to end his life.
---
"Glass Onion: A Knives Out Mystery" (2022)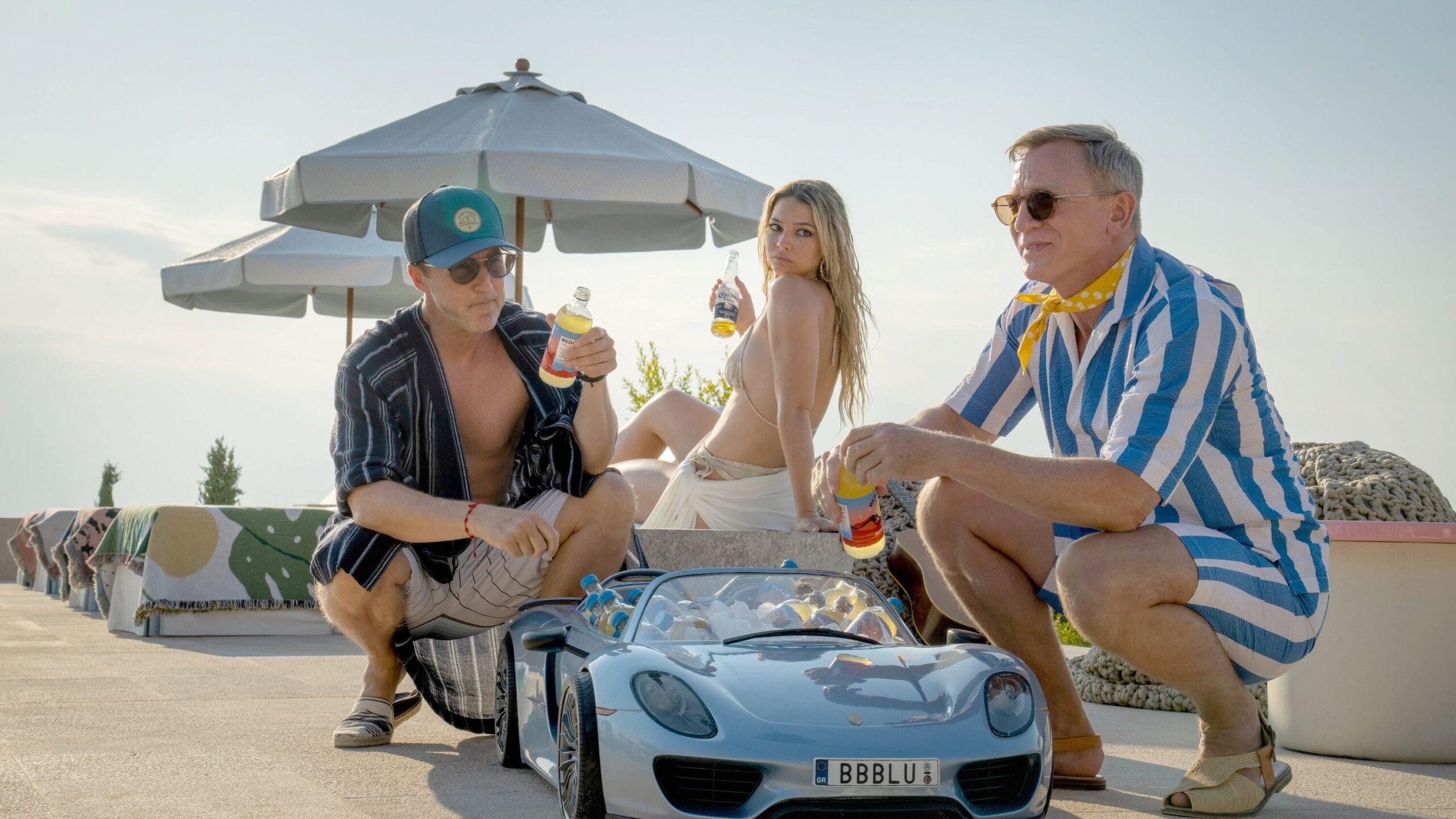 Runtime: 139 min.
Starring: Daniel Craig, Edward Norton, Janelle Monáe, Kathryn Hahn
More madcap and funny than the 2019 original, the characters and locale of "Glass Onion: A Knives Out Mystery" shift from an old-money New England mansion to a new money vacation compound, with Detective Benoit Blanc (Daniel Craig of James Bond fame) as the only holdover. This mystery concerns Elon Musk-esque tech billionaire Miles Bron (Edward Norton, "Fight Club"), who invites a group of his longtime friends to his private Greek island in the midst of the pandemic. As fashion entrepreneur Birdie Jay, Kate Hudson gets the most consistent laughs throughout the film, from insisting that everyone at her raucous 200-person apartment party is "in her pod" to her pathological desire to post career-ending tweets. Norton is a winner as well, playing the kind of billionaire who cultivates a worldly image that could nevertheless be deflated by a particularly clever child, a la "The Emperor's New Clothes."
Watch "Glass Onion: A Knives Out Mystery" on Netflix
---
"Monty Python and the Holy Grail" (1975)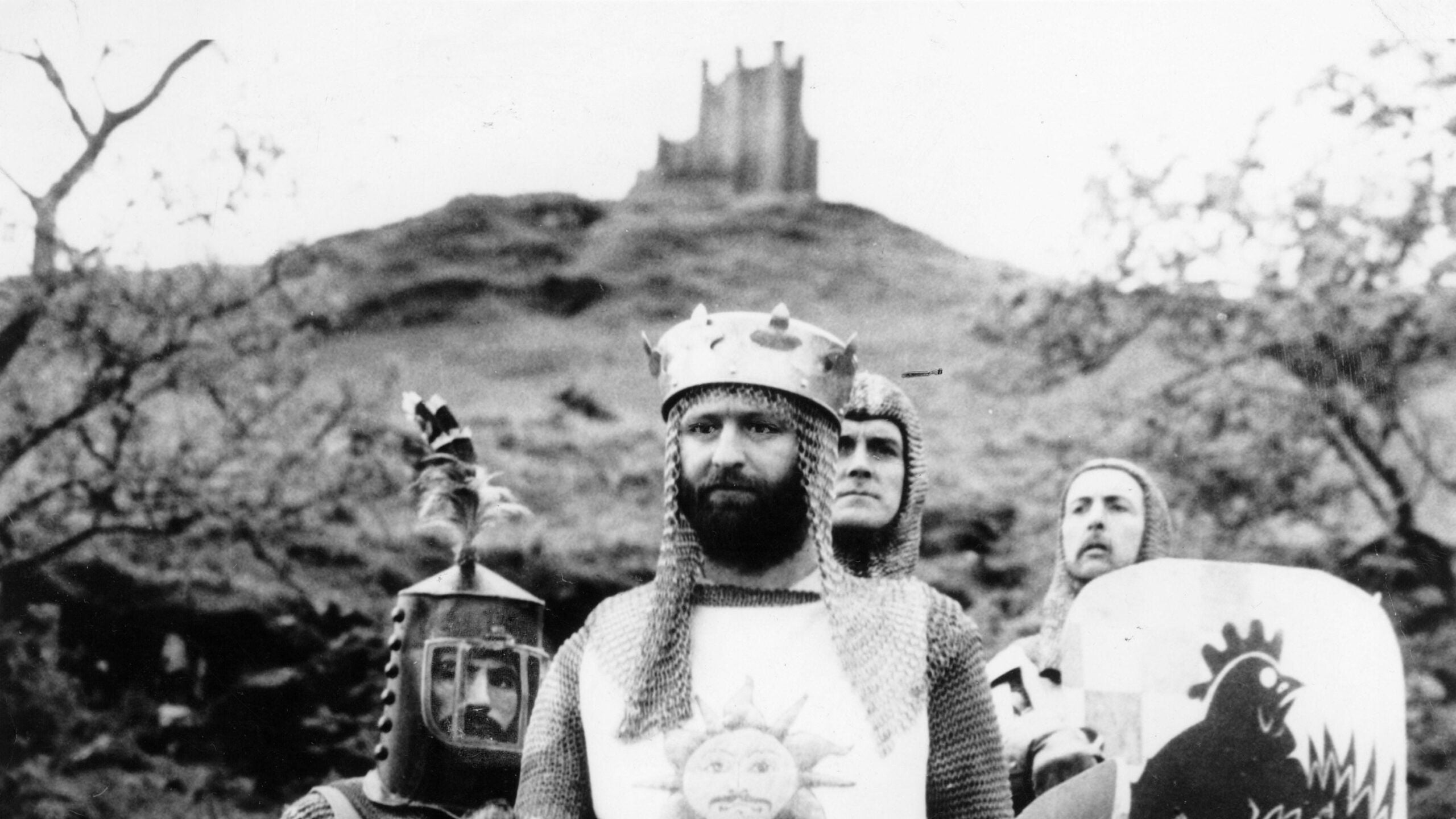 Runtime: 92 min.
Starring: Graham Chapman, John Cleese, Terry Gilliam, Eric Idle
Almost 50 years after its initial release, everything about "Monty Python and the Holy Grail" feels out of another world. The broad satires of the time from the British comedy troupe and others like Mel Brooks are few and far in between these days, which is a shame. In this screwball comedy set in Arthurian England, the Python's mix of high and low comedy is on full display. You'll find brilliantly constructed jokes, sly satire, and full-blown absurdity and slapstick. Most importantly, you'll see a group of comedy legends at the apex of their powers.
Watch "Monty Python and the Holy Grail" on Netflix
---
"National Lampoon's Animal House" (1978)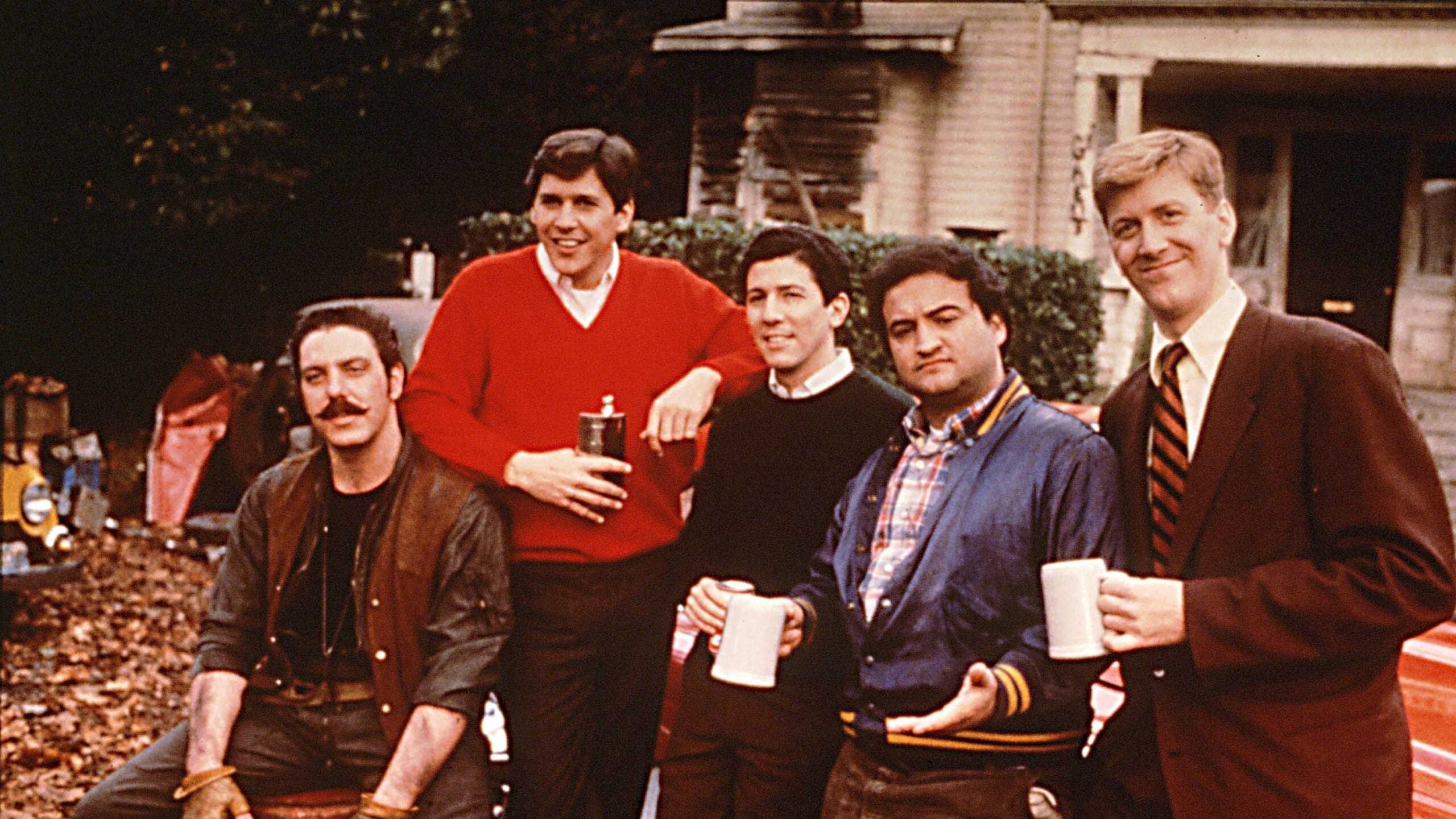 Runtime: 109 min.
Starring: John Belushi, Tim Matheson, Peter Riegert, John Vernon
Like many movies from decades past, there are moments in "Animal House" that would never see the light of day in a contemporary comedy. But that's to be expected for a film that was seen as anarchic and transgressive upon its release back in 1978. The troublemaking Deltas, the stuffed-shirt Omegas, and the pencil-pushing Dean Wormer remain oft-imitated archetypes today. And the late John Belushi, in an almost wordless performance as super-super-super senior Bluto, is an unforgettable personification of pure id.
Watch "National Lampoon's Animal House" on Netflix
---
"Notting Hill" (1999)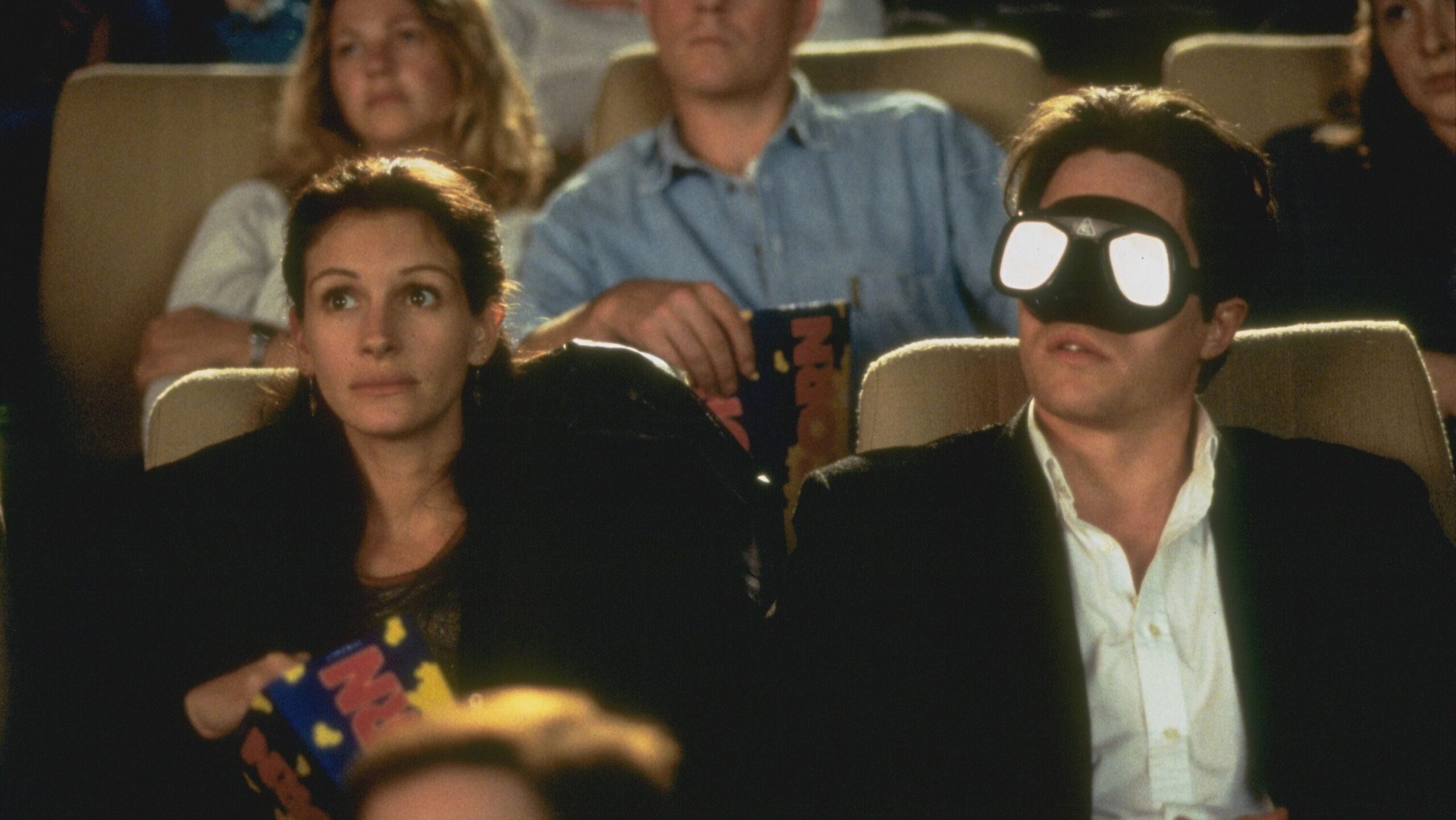 Runtime: 124 min.
Starring: Julia Roberts, Hugh Grant, Hugh Bonneville
If you were writing, directing, or performing in a romantic comedy in the '90s, your guiding light was Julia Roberts. In Roger Michell's "Notting Hill," she gets a chance to play wish fulfillment for audiences, playing an A-List actress who is secretly down-to-earth and falls for a bookshop owner (Hugh Grant). The pair's chemistry and comedic timing is sublime, selling the fairy tale story so well that you'll be a believer when the credits roll.
Watch "Notting Hill" on Netflix
---
"Scott Pilgrim vs. the World" (2010)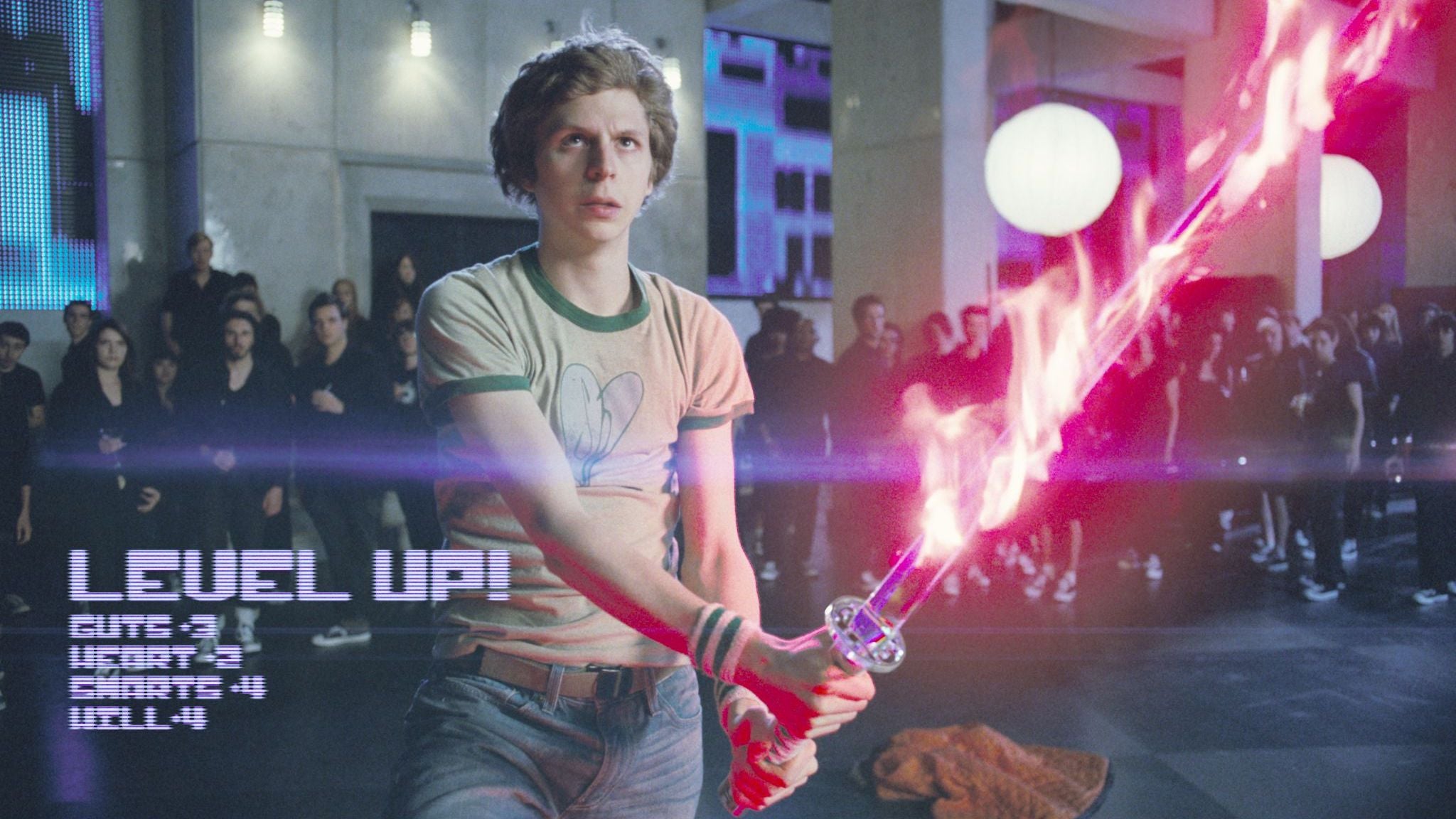 Runtime: 112 min.
Starring: Michael Cera, Mary Elizabeth Winstead, Kieran Culkin
Based on the graphic novel of the same name by Bryan Lee O'Malley, "Scott Pilgrim vs. the World," is the rare graphic novel adaptation that actually looks and feels like a live-action comic strip on screen. Director Edgar Wright ("Shaun of the Dead," "Baby Driver"), known for his visual flair and kinetic editing, fills the screen with BANG!s, BAM!s, and KAPOW!s as Scott (Michael Cera) fights each of the seven evil exes of his new beau, Ramona (Mary Elizabeth Winstead). With a killer soundtrack of original songs written for the film and a young cast that exploded into stardom soon after (Brie Larson, Anna Kendrick, Aubrey Plaza, Chris Evans, and more), "Scott Pilgrim" is the ultimate cool-kid movie.
Watch "Scott Pilgrim vs. the World" on Netflix
---
"Sleepless in Seattle" (1993)
Runtime: 105 min.
Starring: Tom Hanks, Meg Ryan, Bill Pullman
With the proliferation of online dating, it's amusing to think about how Nora Ephron directed two '90s romcoms about how absolutely wild it would be if Tom Hanks and Meg Ryan fell in love electronically. With AOL's free email service and "You've Got Mail" slogan yet to debut, 1993's "Sleepless in Seattle" instead pulled Ryan and Hanks together through the radio, with Hanks attracting suitors nationwide after a Christmas Eve broadcast about his late wife. Ephron plays the audience like a fiddle, putting Hanks and Ryan tantalizingly close to each other without connecting them for the majority of the film. The duo are so winning, however, that you'll forgive any plot contrivances when they finally get their fairy tale ending.
Watch "Sleepless in Seattle" on Netflix
---
Horror
"It Follows" (2014)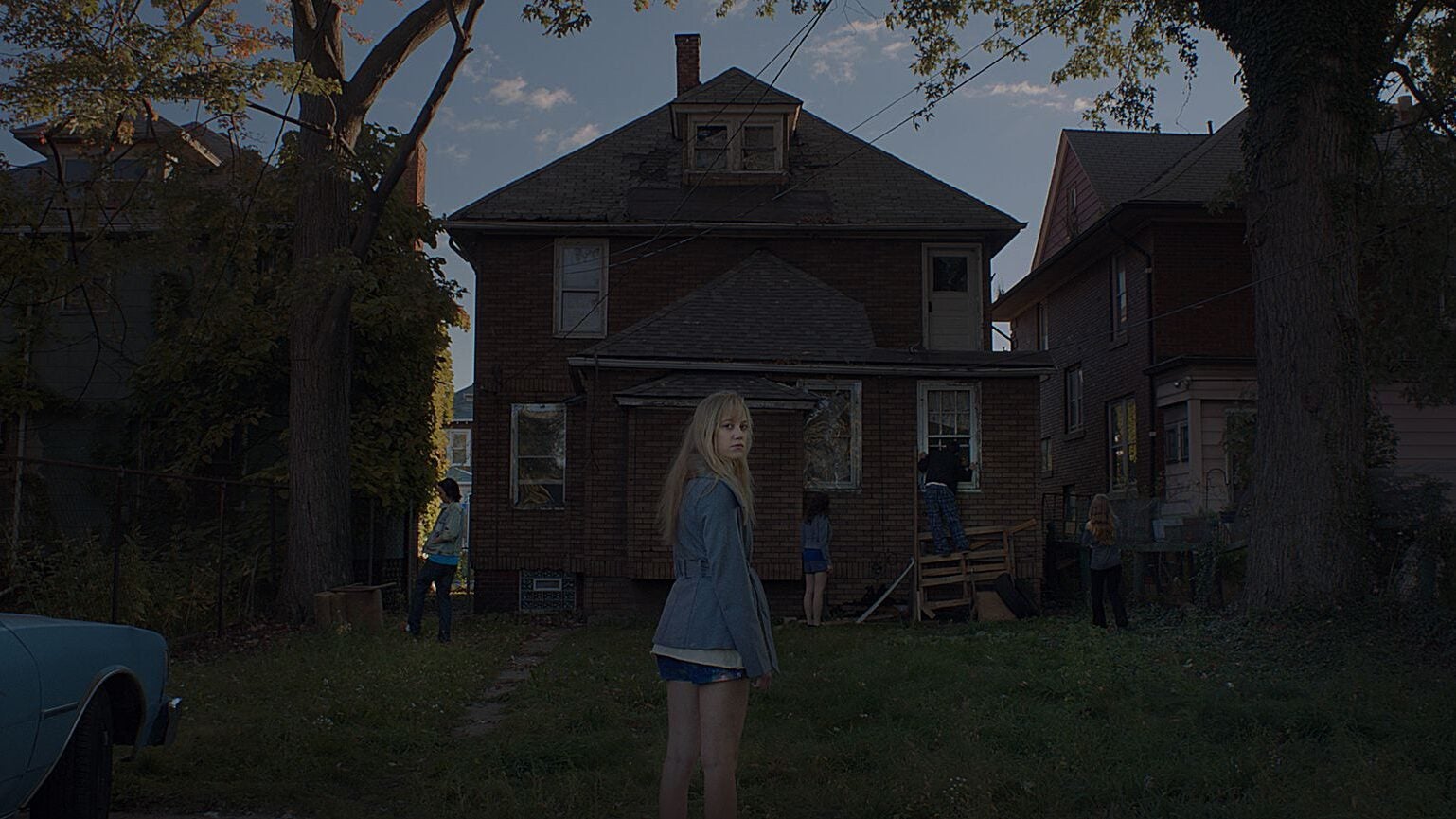 Runtime: 100 min.
Starring: Maika Monroe, Keir Gilchrist, Olivia Luccardi
"It Follows" sounds like a story dreamed up by an overzealous nun: If you have sex with the wrong person, a demonic entity will follow you to the ends of the Earth until it kills you. In the hands of director David Robert Mitchell, however, "It Follows" is less a morality tale and more a straightforward scare-fest. No one casts judgement on the film's characters as they pass along this sexual chain letter of death. Instead, you'll leave thinking deeply about the nature of giving yourself to another, of sharing love with the world, and what following those natural instincts can portend.
---
Action
"Reservoir Dogs" (1992)
Runtime: 99 min.
Starring: Harvey Keitel, Tim Roth, Steve Buscemi
In a film landscape littered with sequels, reboots, and franchise-building exercises, director Quentin Tarantino is one of the few working filmmakers who still draws mainstream audiences with wholly original scripts. While "Pulp Fiction" made him a household name, it was his 1992 feature debut, "Reservoir Dogs," that first put him on the map in Hollywood. The non-linear, elliptical narrative follows eight gangsters — known to each other by color-based pseudonyms like Mr. Blonde and Mr. Pink — who join forces for a jewel heist that ultimately goes sideways. Like nearly every Tarantino film that followed, "Reservoir Dogs" features perfectly calibrated needle drops, highly deliberate camera movement, and long conversations on banal topics punctuated by moments of ultra-violence. Tarantino built a career on homages to some of his favorite films, and 30 years later, you'll find echoes of "Reservoir Dogs" in dozens of movies from directors inspired by QT.
Watch "Reservoir Dogs" on Netflix
---
"Skyfall" (2012)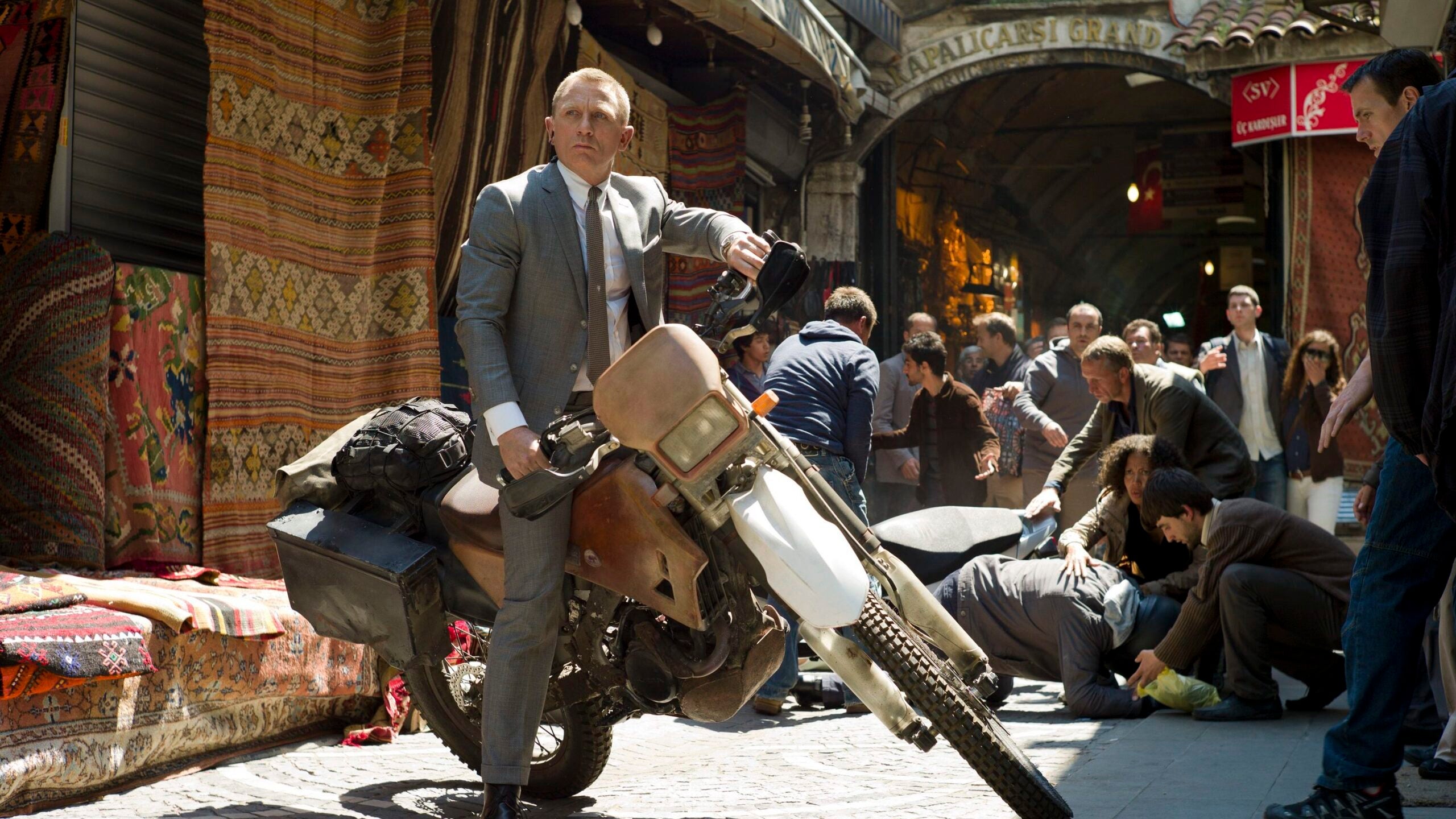 Runtime: 143 min.
Starring: Daniel Craig, Javier Bardem, Ralph Fiennes, Naomie Harris
Daniel Craig's five-film run as James Bond was a mostly successful one, with 2006's "Casino Royale" providing the franchise a much-needed reset by creating a rough-around-the-edges Bond fit with the gritty action franchises of the era. If "Casino" is the best of the Craig-era Bond films, "Skyfall" is not far behind, giving Judi Dench's M a glorious swan song and creating a Bond villain for the ages out of Javier Bardem ("No Country for Old Men"). Factoring in the beautiful shots from cinematographer Roger Deakins, the guiding hand of director Sam Mendes and the towering opening song by Adele, James Bond might be the least important part of "Skyfall."
---
"The Woman King" (2022)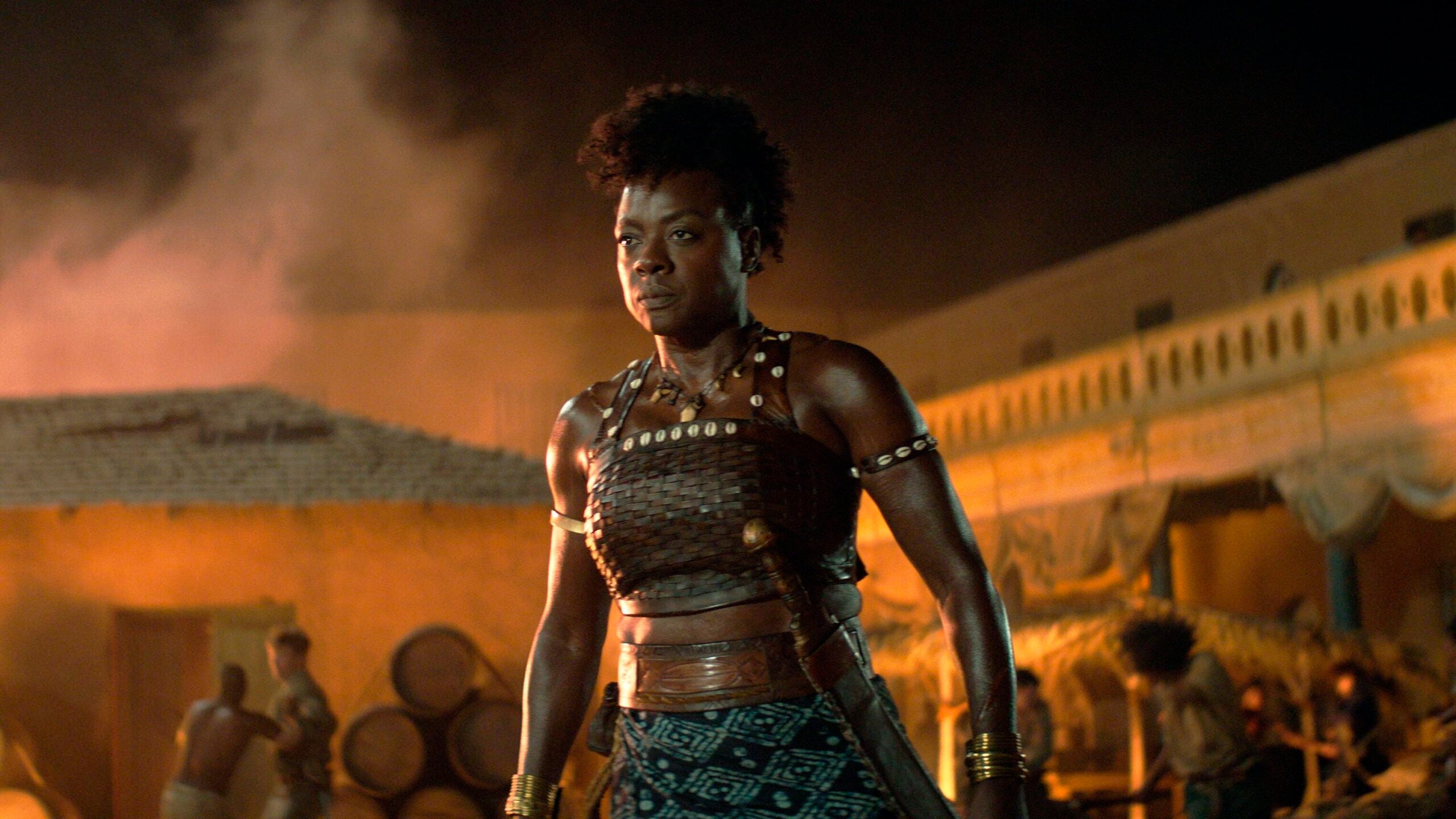 Runtime: 135 min.
Starring: Viola Davis, Thuso Mbedu, Lashana Lynch
One of the bigger shocks of the 2023 Academy Awards nominations was that "The Woman King" didn't receive a single nod from AMPAS. Starring Viola Davis, the historical drama tells the story of the Agojie, an all-female warrior group that protected the Dahomey empire in West Africa for hundreds of years. Set in the 1820s, "The Woman King" follows General Nanisca (Davis) as she trains the next generation of fighters amid incursions from rival kingdoms and slave traders. Davis is exceptional as always, but Thuso Mbedu ("The Underground Railroad"), as a hard-headed trainee, nearly steals the movie from her.
Watch "The Woman King" on Netflix
---
Documentary
"Crip Camp: A Disability Revolution" (2020)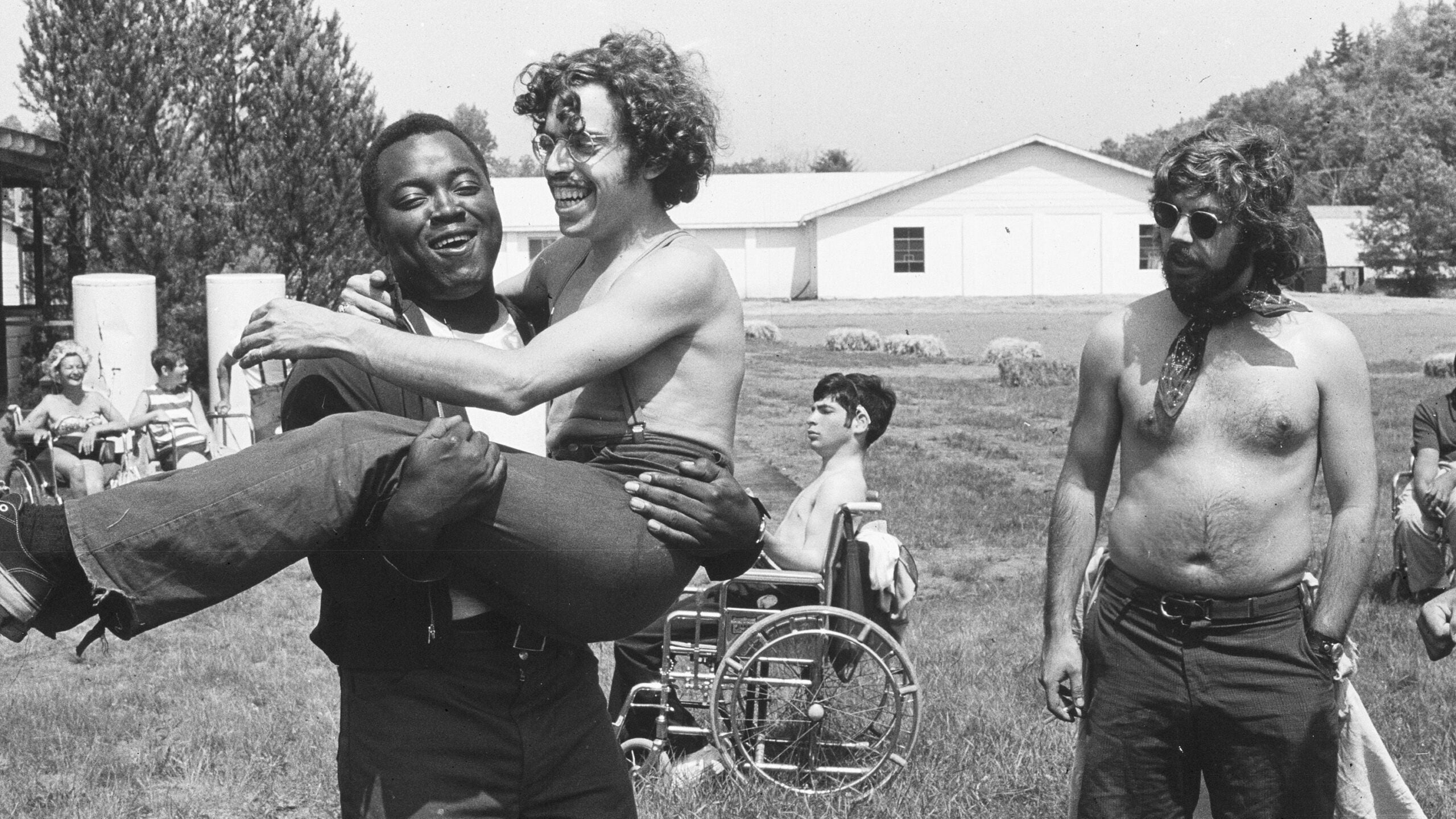 Runtime: 108 min.
Directors: Nicole Newnham, James Lebrecht
The 1960s were a time of political revolution in America, from the protests against the Vietnam War to landmark Civil Rights demonstrations. Less remembered but equally impactful were a series of protests held by Disabled in Action (DIA), an activist group that helped push reforms for the tens of millions of Americans with disabilities. The activist spirit is captured in "Crip Camp," a documentary about a revolutionary summer camp that exposed disabled people to the free love and rock-'n-roll lifestyle of the decade while, more importantly, treating them like human beings.
Watch "Crip Camp: A Disability Revolution" on Netflix
---
"Descendant" (2022)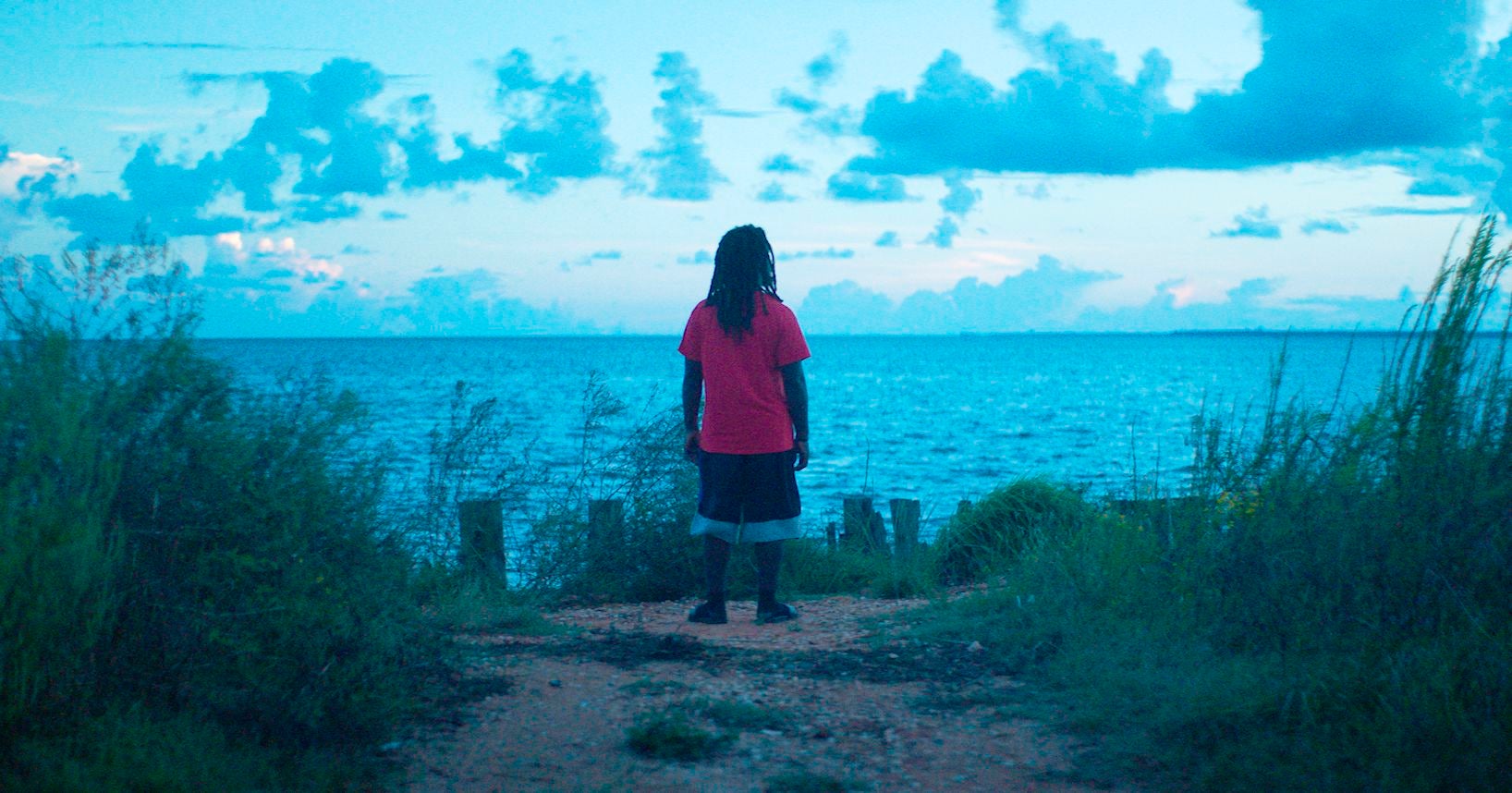 Runtime: 109 min.
Director: Margaret Brown
Produced by Barack and Michelle Obama's Higher Ground Productions, "Descendant" follows members of an Alabama community known as Africatown whose ancestors were brought to America aboard the Clotilda, the last known slave ship to illegally transport slaves to the states shortly before the Civil War in 1860. The importation of slaves had been banned by Congress in 1807. After remnants of the ship were found in 2019, the film reveals how the residents of Africatown grapple with the implications the ship's discovery has on their heritage and knowledge of self.
---
"Dick Johnson Is Dead" (2020)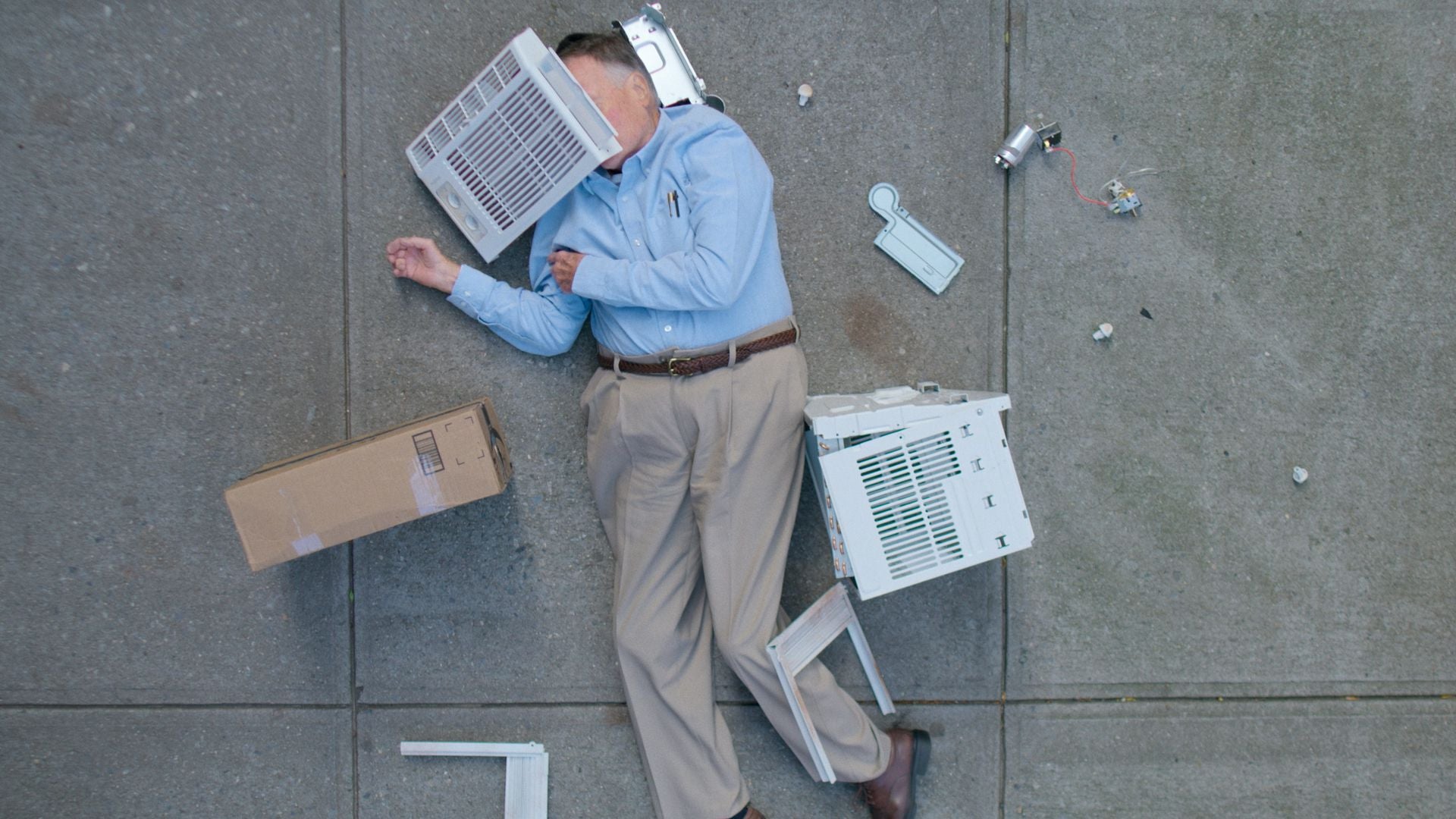 Runtime: 90 min.
Director: Kirsten Johnson
Death is not an easy thing to approach, especially when it comes to those we love most. In "Dick Johnson Is Dead," documentary filmmaker Kirsten Johnson confronts the cognitive and physical decline of her father in a darkly comic way, filming her father dying over and over again, often in hilariously macabre circumstances. While Kirsten uses stunt doubles for some of the more physically taxing deaths, her father is with her the whole way, smiling and laughing as he helps support his daughter's vision. You'll laugh, you'll cry, and you'll be reminded that everyone's grieving process manifests itself in different ways.
Watch "Dick Johnson Is Dead" on Netflix
---
For Kids
"The Mitchells vs. the Machines" (2021)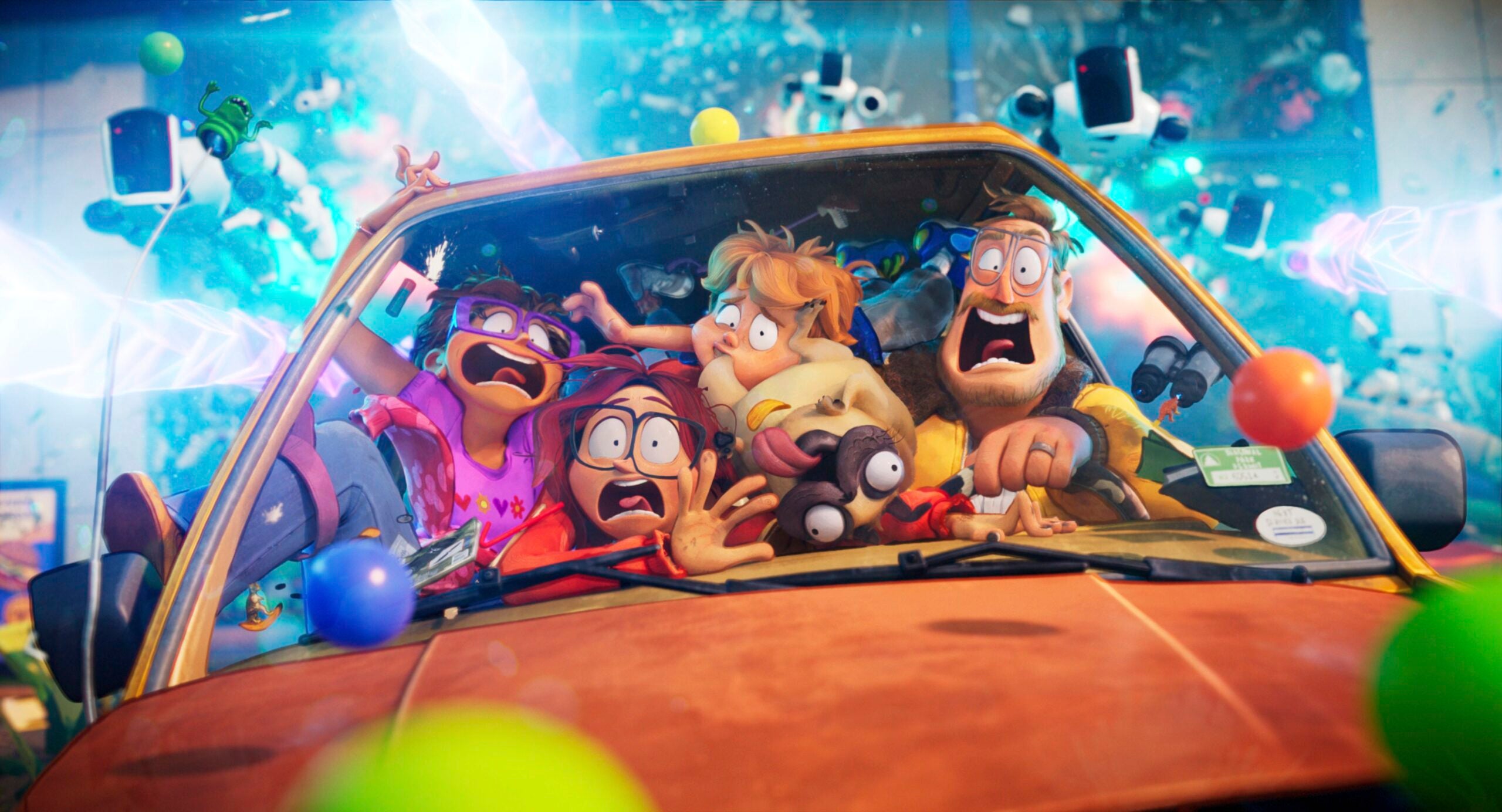 Runtime: 114 min.
Starring: Abbi Jacobson, Danny McBride, Maya Rudolph
Originally slated to be released in theaters by Sony Pictures under the title "Connected," "The Mitchells vs. The Machines" ended up on Netflix instead due to the pandemic. After technophobic father Rick (Danny McBride, "Pineapple Express") breaks his daughter Katie's (Abbi Jacobson, "Broad City") laptop before she leaves for college, he insists on canceling her flight to school and driving across the country together in order to repair their relationship. As they go, the family unwittingly becomes humanity's last hope when a rogue AI begins to take over the world. Featuring a gorgeous animation style that evokes Sony's "Spider-Man: Into the Spider-Verse," the film has the perfect mix of kid-friendly characters and laughs that will appeal to all ages.
Watch "The Mitchells vs. the Machines" on Netflix
---
"Paddington" (2014)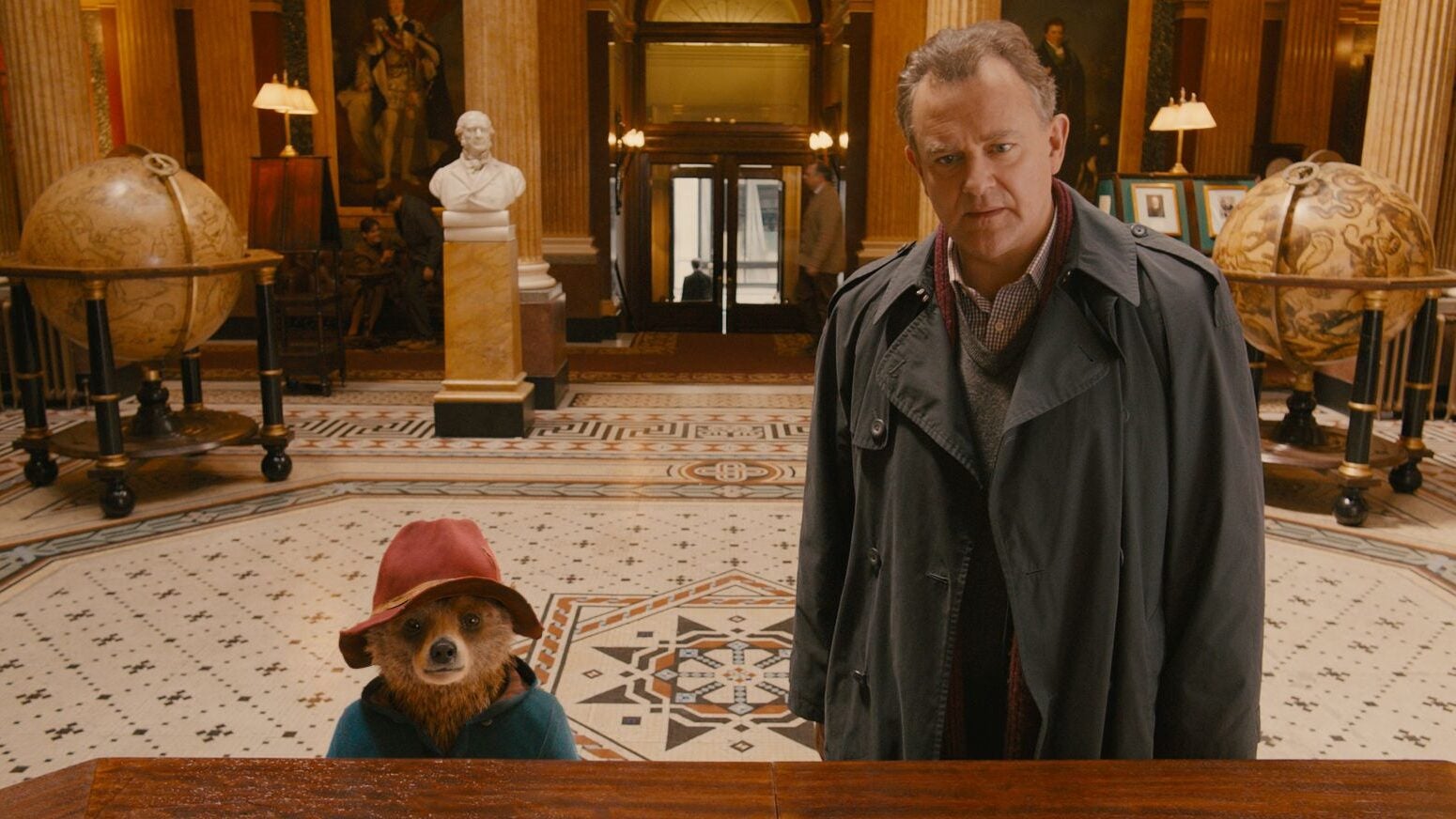 Runtime: 95 min.
Starring: Ben Whishaw, Hugh Bonneville, Sally Hawkins, Julie Walters
While 2017's "Paddington 2" is the superior film (just ask Pedro Pascal and Nicolas Cage), 2014's "Paddington" is well worth a watch as well, introducing viewers to the well-mannered, accident-prone, marmalade-loving bear voiced by Ben Whishaw ("Skyfall"). After leaving his home in the Peruvian jungle for London, the red-hatted bear ends up living with the Brown family. There's an adjustment period for all involved, but by the end, the whole family is united in helping Paddington escape the clutches of a rare animal taxidermist.
---
Note: This list contains movies available to U.S. subscribers to Netflix's Standard or Premium plans. Viewers outside of the U.S. or subscribers to Netflix's ad-supported Basic plan may not have access to these titles.
Newsletter Signup
Stay up to date on all the latest news from Boston.com