On the morning of Femmestival, Madison's annual celebration of women, femmes and non-binary entrepreneurs, Alexa Alfaro will head west with a trailer of kebabs, lumpia and ube ice cream in tow.
Alfaro owns Meat on the Street, a growing food truck and catering business based in Milwaukee. With three trailers going out in 2023 and two new concepts to manage, Alfaro and her brother/co-owner, Matt Alfaro, are already mentors to entrepreneurs with similar dreams.
"We get so many questions from people of color, at a lower income bracket, that may not have other opportunities available," Alexa Alfaro said. "'How did you do it? How did you start?'
"We're trying to make sure we give as much information and encouragement as possible … so they feel better than we did when we started. So they can start a little further ahead."
This "better together" attitude is very much in the spirit of Femmestival, launched and still organized by Culinary Ladies Collective and Garver Feed Mill in February 2020. Francesca Hong, who's also a state representative, represents CLC and works with food vendors. Bethany Jurewicz coordinates Garver's contributions, which this year includes all the financial support.
Garver has ramped up its event programming in recent months. With Craftacular markets happening more regularly there, "we had 170 vendor applications," said Jurewicz, who is the director of public programming at the refurbished east side mill.
For the first time in 2023, there will be two Femmestival Sundays. Feb. 19 features food. Feb. 26 spotlights musicians. There will be lots of visual artists at both — jewelers and printmakers, felters and purveyors of African-style dresses.
Both days, the event is free, both for vendors to participate and people to attend. Food items, previously no more than $5 per item, can now go up to $8.
"Francesca and I had always envisioned it being a regional festival," Jurewicz said. "We're still all Wisconsin, but we're hoping to get a couple Chicago vendors one day. We want to bring these people into Madison, and bring them to audiences here."
Arts and music
Jurewicz chose 25 arts vendors for Feb. 19 and 22 vendors for Feb. 26, keeping the likely interests of each audience in mind.
The food-focused Femmestival day features The Undaunted Herbalist, a vendor who prints tea towels and napkins (Bernie & Zuzu), Succulents and Such, and Prettyful Creations (maker of wood-burned coasters and salad spoons, among other things).
On Feb. 26, vendors include Communication, the near east side arts organization, as well as Every B Needs a Scrunchie and Erda + Arch, which makes clay and paper goods.
Jurewicz is excited for some of the younger vendors, like the artist behind 27 Bones Studio.
"There are two or three artists that are very young, and this is one of their very first festivals," she said.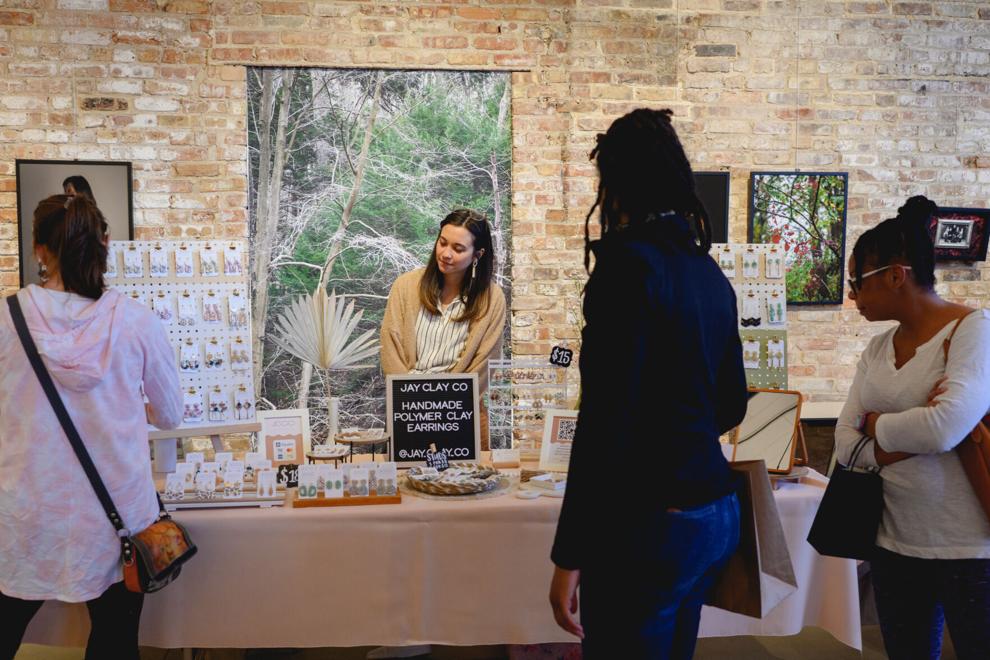 Audifax, a mural and installation artist who currently has a show in Garver's Canvas gallery, is making a large scale art piece Jurewicz will hang in the rafters above the atrium. It's called "Centre," and it's funded partially by the Madison Arts Commission.
"It's my excuse to put something up in the ceiling," Jurewicz said. "It's the only time there's enough freedom from private events to do that."
"Centre" is a "figurative sculpture … it focuses a lot on a meditative state of being," she added. "It involves textiles and lights that expand throughout the whole space." Visitors to Garver can catch Audifax working on it several days each week leading up to the first event.
A full music lineup has not yet been announced, but performers are set to include CoMingle, Strong Arm Sally, Ladyslipper, Xica Davis, Angela Puerta, Uncle JIM and Juicee Monroe.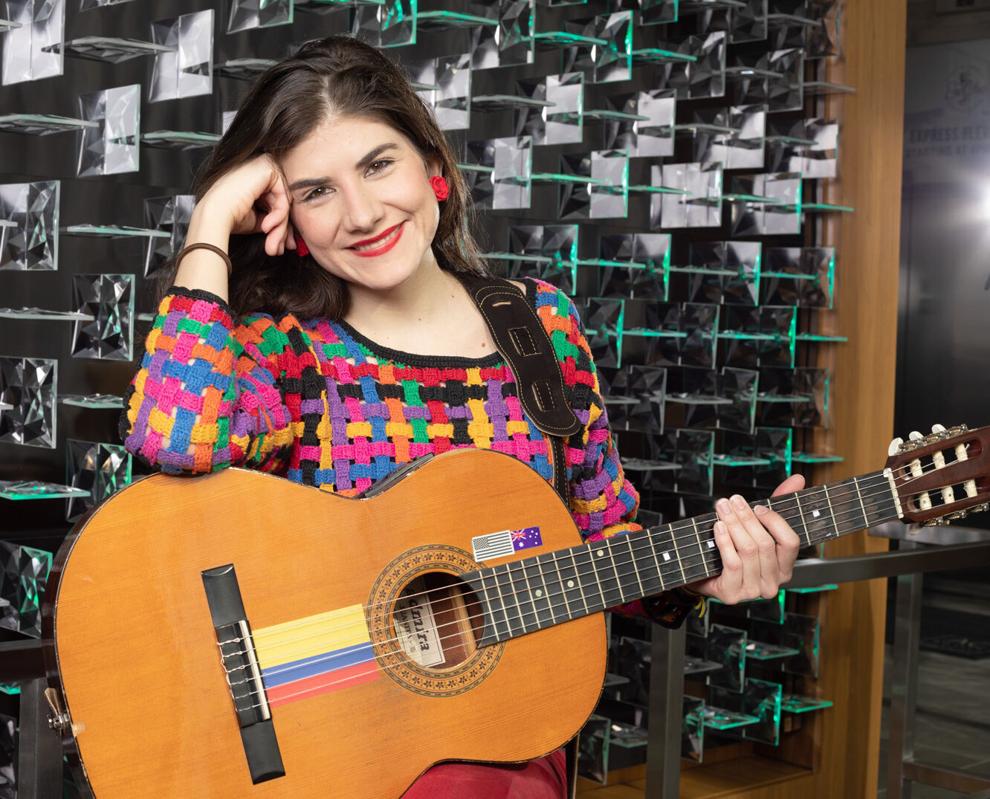 Getting off the ground
This year's culinary lineup at Femmestival includes established brands, like Madison's (a downtown restaurant), the expanding Miggy's Bakes (soon to open a brick and mortar bakery in Middleton), and Madame Chu Delicacies.
But the vibe of Femmestival has always been start-up centric. With no participation fee or booth rental, it has a low barrier to entry, offering opportunities for women who might work in a restaurant but not own one, or who may be just getting their brand off the ground.
That's true for Missey Russell, owner of Blended Sisters. On the morning of Femmestival, Russell, her fiancé and daughter are heading to the Garver kitchens to finish prepping and warming sweet potatoes, dirty rice, green beans and pot roast.
Russell started applying for permits and licenses during COVID, in 2020 — "that was supposed to be my kickoff year," she said. The pandemic "put things on hold a little bit. Now I'm ready to go."
Russell intends for Blended Sisters to be a collaboration with her friends, all "amazing cooks" with soul food specialties like baked mac and cheese, fried cabbage, fried chicken and greens with smoked turkey.
When deciding on Femmestival food, "I had all my family weighing in on it," Russell said. "It was pot roast or turkey wings. I finally nailed it down to the pot roast."
'The greatest opportunity ever'
Overall, dishes at Femmestival 2023 may be more robust than in previous years.
"When you tell people there's a $5 cap, there's a lot less protein," Jurewicz said. "Meat is back with the $8 cap. It has definitely expanded the menus that vendors are able to offer."
Meat on the Street, for example, is bringing adobo, slow-cooked pork in soy sauce, vinegar and garlic, as well as grilled teriyaki chicken and "hot pig" (slow-cooked pork with pickled red onions, Srirachi-citrus aioli and garlic rice).
Meat on the Street has vended in Madison before, and Alexa Alfaro enjoys the opportunity to come to their fans.  
"People, especially our regulars, will want to buy packs of lumpia to take home with them," Alfaro said.
Russell hopes Femmestival could be the kickoff she has long wanted for Blended Sisters. She's been working on a website and a social media presence.
"Starting off my catering business, being able to come to events such as this to showcase my work, opens myself up to a wider variety of potential customers," she said. "I see this as a wonderful opportunity … to put myself out there.
"I am a happy person. I put love into every dish I make. This is the greatest opportunity ever."