For more than half a century, photographer Bob Coglianese witnessed New York racing history, and for more than half a century he documented it, taking, printing, and publishing thousands of pictures for the New York Racing Association.
Coglianese died Dec. 16 in Boynton Beach, Fla. following a short illness. He was 88 years old.
He began taking pictures at New York tracks in 1952, serving as an assistant to his uncle, Mike Sirico, who had been photographing at New York tracks since 1920. Named the official track photographer in 1955, Sirico was succeeded by Coglianese in 1962, who eventually passed the mantel to his son Adam, the current NYRA photographer.
Bob Coglianese
Though he may be best known as the man who took the head-on shot of Secretariat's iconic Triple Crown-winning run in the 1973 Belmont Stakes, Adam Coglianese said that when discussing his career, his father "liked to talk about horses besides Secretariat."
Sign up for BloodHorse Daily
"He saw Native Dancer break his maiden at Jamaica Racetrack in 1952," said the younger Coglianese. "He saw Kelso win the Jockey Club Gold Cup five years in a row."
And when his father did talk about Secretariat, it wasn't about that head-on. It was about the photograph he took of Secretariat during a workout prior to the Bay Shore Stakes in 1973.
"The statue of Secretariat in the paddock at Belmont Park was inspired by that picture," said Adam. "It really showed the horse's muscle definition."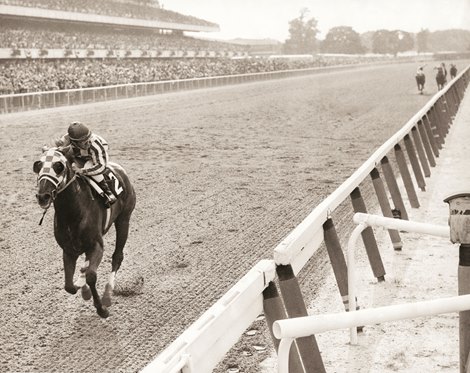 Secretariat wins the 1973 Belmont Stakes at Belmont Park
A fixture in the winner's circle at Saratoga Race Course even after he retired, Coglianese would arrive at the dark by dawn when he was working, both because he loved being at the track and because in the days of shooting on film, developing and printing photographs was a time-consuming process and one that required precision in an era of non-digital, non-mechanized cameras.
Though today it is jockey Frankie Dettori who is known for his "flying dismounts" after a win, Coglianese may be the first photographer to have documented such a win, capturing jockey Avelino Gomez leaping off 1963 Futurity Stakes winner Bupers in the winner's circle at Aqueduct Racetrack.  
"My father captured that shot with one frame," said Adam, his voice imbued with awe, wonder, and respect. "He was a pioneer. He was a tough worker, and he was tough in business. He taught me everything I know about racing and about taking pictures. Everything I learned about photography was from him." 
Coglianese won two Eclipse Awards for photography, in 1972 and 1980, and despite his prodigious success, he was also humble, often demurring when credited for that iconic photo taken of Secretariat 31 lengths ahead of his rivals.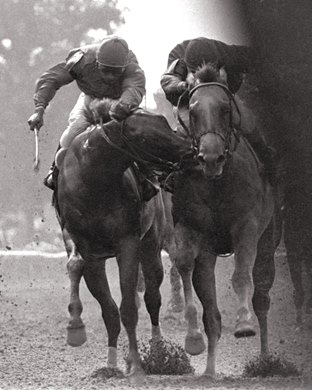 Great Prospector (outside) bites winner Golden Derby in the 1980 Tremont Stakes at Belmont Park
"There was a photo stand over there, and I was on it, shooting the race," he told the New York Racing Association in 2018. "It just so happened I got that shot."
"He treated every day like it was the Belmont Stakes," said his son.
And while racing was his life, no matter which track he was at, he had a special affection for Saratoga.
"He loved the light there," said Adam. "He thought the light was fantastic, and I would agree with that. He also loved the community." 
"Bob Coglianese was a giant in the world of racetrack photography, with his images among the best ever taken of Thoroughbred racing," Dave O'Rourke, NYRA president and CEO, said in a Dec. 17 statement. "Bob combined an extraordinary work ethic with a knack for innovation and a passion for the sport. He was a master at the craft and a mentor to countless photographers working today. NYRA offers our condolences to Bob's family and friends, and we look forward to honoring his memory in the months ahead."
Coglianese is survived by his wife Rosalind, his son Adam, his grandson Ethan, and his daughter-in-law Tia Sozzi.
In lieu of flowers, the Coglianese family asks the horse racing community to kindly consider a donation to the Belmont Child Care Association, the Backstretch Employee Service Team, or the New York Race Track Chaplaincy.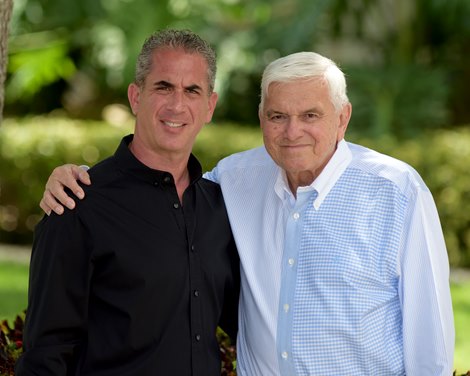 Adam and Bob Coglianese