'This is my farewell letter to Hong Kong," says Wong Chung-Wai, when I ask about the title of his astonishing photobook, Hong Kong After Hong Kong. "I wanted to use photography to preserve what's left in the ocean of my brain, to create evidence of having lived in the city, as I don't know if I could ever return."
Wong recalls that, in 1980, his parents "waited for the guards at the border to rotate their positions" before swimming across Shenzhen Bay in mainland China to Hong Kong. Forty years later, Wong, like many Hongkongers, decided to leave the city after China introduced the national security law in June 2020, which has triggered continuous crackdowns and threatened civil liberties in the former British colony.
I videocall Wong two days after June's summer solstice, and our conversation switches between Cantonese and English. The morning light in his London apartment appears muted, a far cry from the intense subtropical climate of Hong Kong.
In Wong's book, we don't see the typical neon signs of the bustling Mong Kok market district or the skyscrapers in Victoria Harbour. Instead, we find ourselves inside an empty cinema, a cordoned-off garden filled with broken statues, at the gate of a cement factory, and under highway bridges where porcelain Taoist deities find refuge.
"Hong Kong often comes across as an international tourist capital," says Wong, "but I've downplayed its stereotypical image to rediscover my internal landscape," and offer "a sense of intimacy through the camera".
Without any identifying captions or dates, Wong's photographs shift our attention away from information towards feelings. Intimacy and emptiness are juxtaposed in his images, which are filled with intransigent beauty. "The most difficult thing is to create intimacy in an empty place," Wong says. In his landscapes we see a man walking solo by a canal under a concrete sky of crisscrossing flyovers; in his portraits we are drawn to young people's blank faces. In one landscape shot, a mirror, leaning against a tree and decorated with Christmas tinsel, reflects an empty grey sky. "I'm interested in the half-hidden, the art of not being explicit," Wong says. "I'm asking the viewers: what's missing there?"
The atmospheric language of the cinema is never far away in Wong's photos. Though he considers himself "an amateur photographer", he has worked for more than 15 years in the film industry, in script-writing, production and location-scouting. When I ask him about the difference between photography and movies, Wong says: "Photography gives me freedom – a rarity in film-making, which is bound by the budget and other constraints. You can tell a story in a photo by one click, through a one-second connection with the world and the subject."
Wong mentions the Nobel prize-winning author Gao Xingjian's novel Soul Mountain, which was loosely based on the writer's own sojourns in rural China, as an inspiration. "Like Gao's protagonist, I walked to the four corners of a place searching for something in the past, something that no longer exists."
Why did he leave Hong Kong, I ask. "I was heartbroken," he says, "I was anxious for the future, which had turned into a sick relative. I needed to turn away from the sickbed. It wasn't an easy decision but I'm gradually feeling settled here in London. It's a new start."
After we speak, a line by the late Irish poet Derek Mahon haunts me: "Home is where the heart breaks". Wong's photos capture a double loss: a home that he has lost, and a city that has also lost itself.
The lost city: three more images from Wong Chung-Wai's Hong Kong
Sai Wan swimming shed
"I found this walkway for morning swimmers in the most westerly point in the city." says Wong. "The light seemed ambivalent. At sunset, the woman was facing west as I was thinking of flying west to Britain."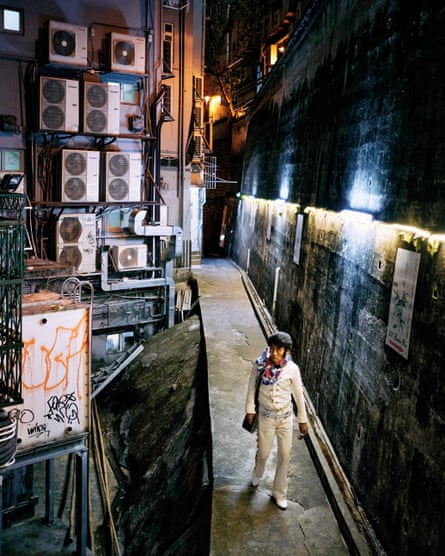 Graham Street wet market
"I've seen this man many times during my late-night photo trips," says Wong. "I was in the back alley in Lan Kwai Fong, the Soho of Hong Kong, and suddenly there he was, dressed as Elvis with a guitar. The towers of air-conditioners enhance the surreal, cyberpunk feel of our concrete forest."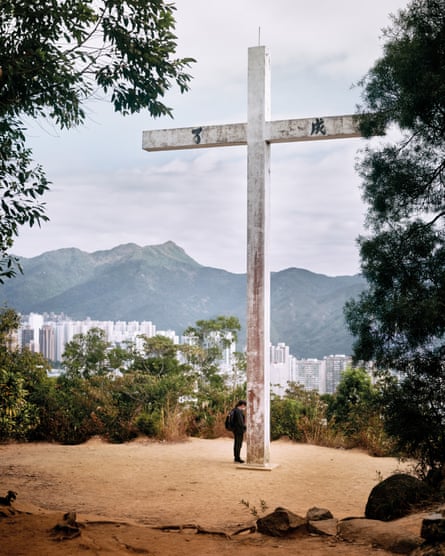 Concrete cross, Tao Fong Hill
"I lived in Shatin, in one of the towers," says Wong. "I could see the cross up the hill but had never visited until I decided to leave Hong Kong. The two Chinese words on the concrete cross read: 'It is finished'. These are the last words of Christ. I am moved by the woman's indecipherable posture. Was she praying?"
Main image: Causeway Bay typhoon shelter
When asked why the city's stunning skyline is pushed to the background here, Wong says: "Whenever I think of Hong Kong, this is the image that encapsulates my feelings: the hazy yellow light, a small person in a big city overcoming the sense of an infinitesimal existence."
Hong Kong After Hong Kong by Wong Chung-Wai is published by Gost on 6 August (£40). Kit Fan's first novel is Diamond Hill and his latest poetry collection The Ink Cloud Reader is available at guardianbookshop.com. Delivery charges may apply