The near-decade-long design project of a c. 1910 High Park house retains many of its original elements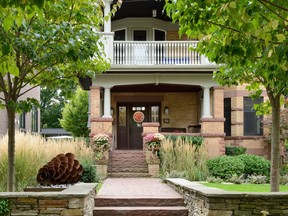 Reviews and recommendations are unbiased and products are independently selected. Postmedia may earn an affiliate commission from purchases made through links on this page.
Article content
For most Torontonians, the Arts & Crafts architectural style is as familiar as Victorian bay-and-gable. Much of the city's neighbourhood housing stock went up during Toronto's biggest housing boom, about 1910 to 1930, when Arts & Crafts was all the rage in both grand houses and more humble ones. Even today, it's easily recognizable: rough stone foundations, mock-Tudor stucco and half-timbering, deep cottage roofs and roomy front porches.
Article content
It's so ubiquitous that it's easy to overlook in its day, Arts & Crafts was actually more than just a design fad but a philosophy that was considered radical for its time. Popularized by textile designer, artist, poet and social activist William Morris, it rejected the mass production and urban blight of Victorian society in favour of a return to artisanal workmanship and a reverence for nature. It was also a rejection of class snobbery.
Cottage, cabin or chalet — what's your retreat of choice?

Freshen up your home with spring colours
 "The Arts & Crafts practitioners were really the hippies of their day," says Toronto designer Shelley Kirsch, known for her 20th-century-inspired interiors and daring approach to colour. "They wanted to get back to the land, in a sense, to embrace nature and personal creativity, which had become lost in the late Victorian period."
Article content
 Kirsch recently completed a near-decade-long design project with the owners of a c. 1910 High Park house that retained many of its original Arts & Crafts elements. The owners, who are lovers of the style — the wife collects Arts & Crafts pottery — asked Kirsch not just to restore but to reimagine a grandly appointed Arts & Crafts home, inside and out.
 While it's true that the home, built by a prominent local businessman, might not have had quite so much exuberance and colour in parochial early-20th-century Toronto, everything in the new design is authentic to what could have been there.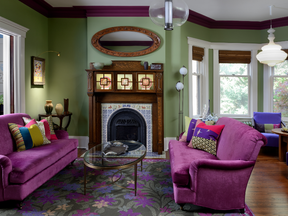 A simply landscaped garden leads to the porch and front door, with its leaded-glass sidelights and a circular stained-glass cutout. Inside, the vestibule showcases the fine oak panelling found throughout the "public" areas of the house. All of the oak woodwork throughout was painstakingly cleaned, restored and polished, a process that, in itself, was a major project.
Article content
Kirsch deduced from the vestibule's dimensions that it likely once had built-in benches — cozy seating areas called inglenooks were a common feature of these houses — and recreated them. The original hammered copper fireplace cover and grate were restored, and set in a mauve-and-violet tile hearth of circles within squares, with matching hammered-copper end caps. "Geometric figures, especially circles, were an important pattern," explains Kirsch. "The circle often represented the sun, which was considered a positive and happy symbol."
 The circular carpet and matching runners underfoot, made by the artisanal carpetmakers Creative Matters, have clematis blossoms in cream, mauve and violet rambling over two-toned green vines, set inside a purple border of fans and circles. Another playful touch is the hall table, with its supporting frame of intertwined wrought-iron branches.
Article content
 The cheery palette continues in the living room, where the walls are garden-green and the upholstery is purple and cerise. The original fireplace was enhanced with a mantel of tiger oak, a strongly figured wood popular in Arts & Crafts homes. Tile insets feature rabbits, goats and other animal figures; just above, glass-fronted cabinetry is illuminated from within to showcase some of the owner's pottery. On the wall above is a hand-carved mirror by Siggi Buhler, featuring a border of small acorns.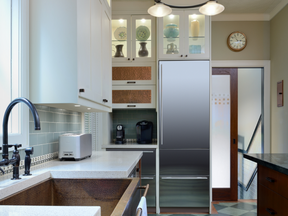 The dining room, with its sky-blue and ivory lacquered walls with gold leaf and sand-coloured stencilling, features an elaborately finished built-in server at the end of the room, with hand-carved decorative cutouts, storage-boosting pullouts, and stained-glass insets resembling espaliered fruit trees. Metal insets in the base of the round dining table coordinate with the brass edges of the ceiling medallion directly above: more subtle geometry.
Article content
 The most unusual room in the house is the upstairs office, with its heavy fireplace overmantel featuring extended timber ends, elaborate built-in cabinetry and large restored clock. Original to the house — it was the first owner's home office — it was dour in dark oak; Kirsch painted it white, adding hand-fired green subway tiles and an authenticated Morris wallpaper in a climbing vine pattern.
 The kitchen is notable for the range of humble natural materials that are beautifully deployed in it: soapstone counters, a hammered copper sink, cherrywood cabinetry. Even the Marmoleum floor, arguably, is natural – or at least, organic – since it's a traditional material composed of crushed wood pulp and natural resins. Tiny dotted mosaic tiles line the backsplash; there's an art glass panel inset in the range hood. "At night it can be illuminated from behind – when the rest of the room is dark it makes a lovely glow," Kirsch says.
 The owners have said they may never sell the place; they have a vision of passing it on through the generations. "They felt they were stewards of the house, in a way. They prioritized restoring it and bringing it up to full period style, over a period of years," says Kirsch.
 "People react to it emotionally when they see it, and I do, too."